Show Overview
My Mother's Three Mothers
by Erin Galligan Baldwin


A woman's search for her birth mother sends shock waves of secrets, shame, choices & consequences through generations.

Inspired by a true story, Erin Galligan Baldwin's new play asks "Who owns your story?"

Open Door Theatre's 2019 staged reading received rave reviews and standing ovations as the play's themes and events deeply touched audiences.
Lost Nation Theater is thrilled to present the show's world premiere production, directed by Kathleen Keenan
Stay tuned for auxiliary events and programming information.


The play features mature themes.
Curtain is 7:30pm Thu/Fri/Sat; 2pm Sun: May 25–June 11.
Production Team
featuring
Sorsha Anderson, Kim A Bent, Alexa Kartschoke, Susan Palmer, Eric Warwick
directed by Kathleen Keenan
scenic design: Kelly Daigneault
scenic consultant: Kim A Bent
lighting & projections design: Jacob Sikorski
costume design: Charlene Sroka
sound design: Andrew Vachon
properties design: Kelly Daigneault
stage management: Caroline Saltz
movement & choreographic consultants: Taryn Noelle and Kim Ward
Scoop Info
Read. the full scoop on the show HERE
Join Us for Post-Show Discussions with the cast, director & playwright (and...)
Sun May 28: Good Beginnings - plus a special guest (the show's inspiration!)
Thu June 1: CVMC Women's Health
Sun June 4: The Lund Center
Media Info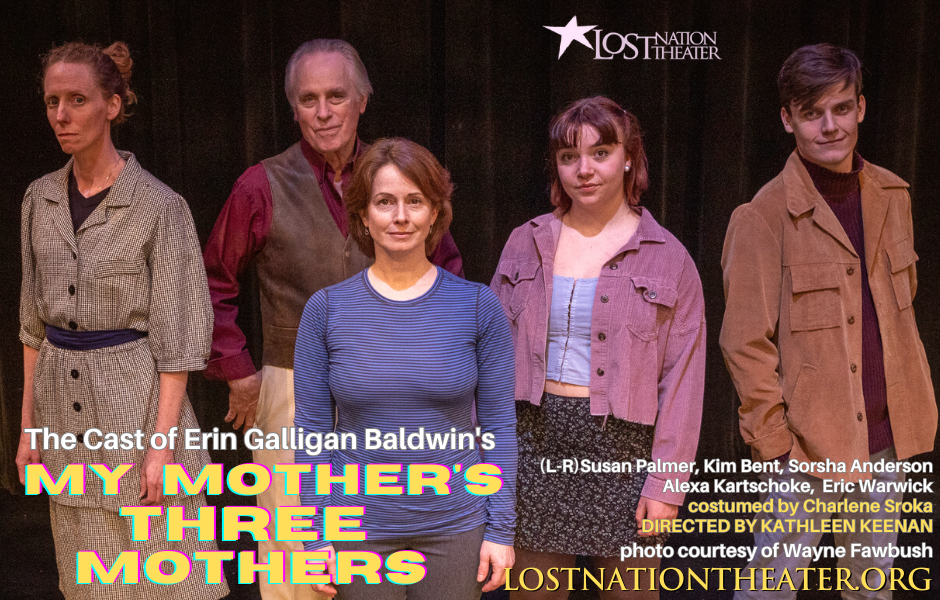 See more photos HERE