Downtown On Stage
Put Your Marketing Dollars to work for Your Business and Your Community!
Join Downtown On Stage!
Downtown on Stage is Lost Nation Theater's value-for-value entry level business sponsorship program.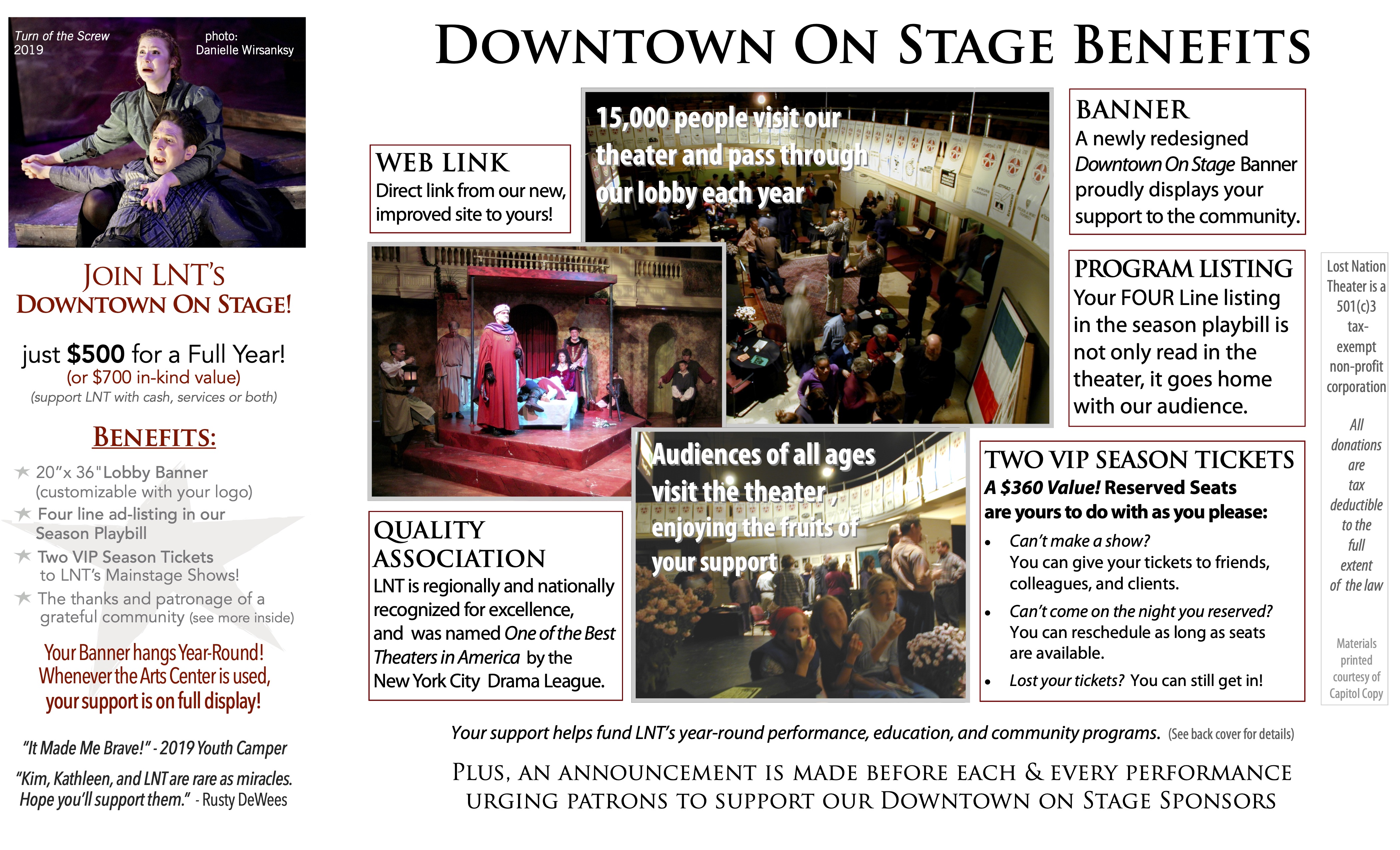 We know it takes a village to raise a child. But It also takes a village to raise and support a professional theater creating meaningful work and opportunities for its community. Please Join Us in 2020!
TOP 10 REASONS TO BE AN LNT "DOWNTOWN ON STAGE" PARTNER

1) YOU RECEIVE A REAL VALUE-FOR-VALUE EXCHANGE!
Two tickets to all 5 of LNT's main stage shows. Use them yourself or give to employees, patrons, or friends.
2) YOUR BUSINESS' BANNER HANGS YEAR-ROUND IN LNT'S LOBBY!
Seen by patrons not just attending LNT, but those attending the 30+ other events & even Voting in the Hall.

3) YOUR BUSINESS LISTING APPEARS IN LNT'S PROGRAM FOR 7 MONTHS!
Exposure to audiences at more than 100 performances, April – October.

4) YOU MAKE A SIGNIFICANT COMMUNITY-BUILDING INVESTMENT!
More than 90% of LNT's $300,000 annual cash budget is recycled locally, generating more than one- million-dollars of economic activity in the community.

5) YOU NURTURE CENTRAL VERMONT'S YOUTH!
LNT's K-12 Theater Education Programs serve over 200 young people each year, teaching the communication and collaboration skills that will help to make them emotionally mature, creative community leaders.

6) YOU BRING EXCITING, HIGH-QUALITY ARTISTS TO TOWN!
Many have stayed to become productive, year-round, tax-paying residents.

7) YOU PUT MONTPELIER ON THE REGIONAL & NATIONAL MAP!
LNT is one reason Montpelier appears on many regional and national most-desirable lists.

8) YOU PROMOTE CITY HALL AS THE GATHERING PLACE FOR OUR COMMUNITY!
LNT provides consultation and technical support services for a full calendar of annual community events organized and produced by other organizations.

9) YOU MAINTAIN AND IMPROVE CITY HALL AUDITORIUM ARTS CENTER!
In partnership with the City of Montpelier, LNT has raised hundreds of thousands of dollars for facility upgrades and renovations.

10) YOU ARE A STRONG, VIBRANT THREAD IN THE INTERDEPENDENT WEB OF OUR VERMONT COMMUNITY!
As an LNT "Downtown on Stage" business partner, you get paid back many times over with both concrete and intangible dividends.
Downtown On Stage Contributor Sign-Up Form