World Premiere of My Mother's Three Mothers
May 15, 2023
Lost Nation Theater presents the world premiere of Erin Galligan Baldwin's explosive, theatrical, and gripping play MY MOTHER'S THREE MOTHERS
May 25-June 11.

all photos on the page are courtesy of Wayne Fawbush
How many times has something happened in your life that was so incredible or preposterous you thought "they should make a movie out of this!" Quickly followed by – "but folks would never believe it!"
For playwright Erin Galligan Baldwin, a family event became My Mother's Three Mothers, which, after six years of development, will receive its world-premiere production at Lost Nation Theater – central Vermont's resident professional theater.
My Mother's Three Mothers plays Thursdays- Sundays, May 25–June 11 at LNT's wheelchair accessible home within Montpelier City Hall Arts Center (protected by the Synexis Air Purification System).
"A good story well told is never just entertainment. It's good medicine for whatever ails us. We may not even be aware we need healing, but a good story shines light on that, too. My Mother's Three Mothers inspires us to pay attention to the fact that we're all making it up as we go along––so, it's important to make our life story a good one!
– Kim Bent, LNT Founding Director.
In this topical, gripping new play – based on a true story – a woman's search for her birth mother sends shock waves of secrets, shame, choices & consequences through generations.
"For 20+ years this play – the story of my mother's search for the birth mother and their subsequent reconnection ­– has been swirling in my mind. I had 70 pages of their letters; I had interviews with my mother; and I had research into our family tree. However, I was paralyzed by the weight of it all, and couldn't get myself to write a single word.
Then, after the birth of my second child, the story finally came pouring out."
– Erin Galligan Baldwin
Lost Nation Theater is bringing together favorite Vermont performers and artists from across the country for this project.
The company's producing artistic director and resident composer, Kathleen Keenan, is directing.
"There is so much about My Mother's Three Mothers that makes for a remarkable theater experience. From the way a flood of emotions sneaks up on you, to the vast variety of theatrical styles that successfully merge, prism-like, to tell this multifaceted story in a way that mesmerizes, surprises, and takes your breath away."
– Kathleen Keenan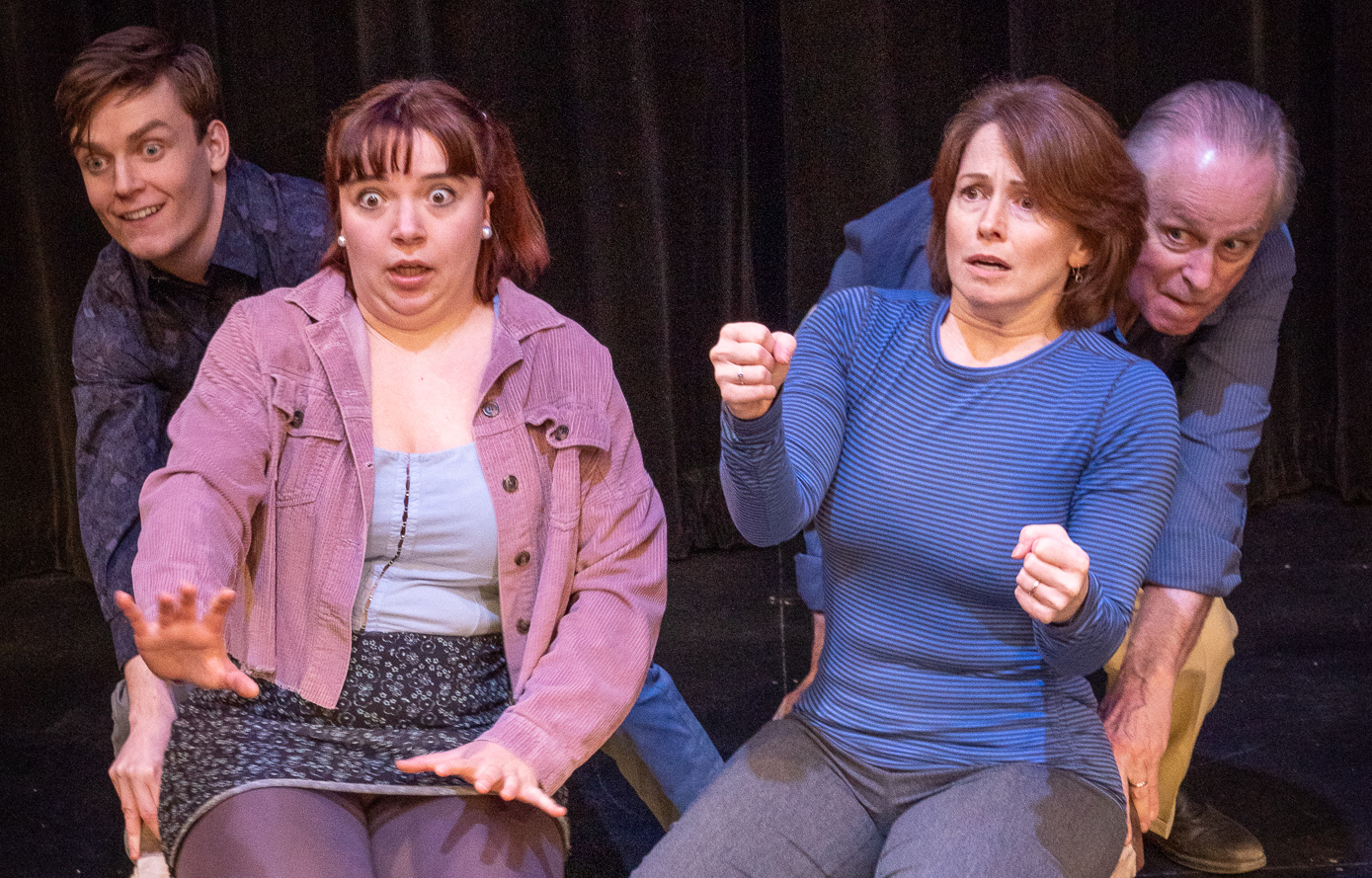 An ensemble of just five actors brings this beautiful, complex and often comedic show to life on stage!
Joining Lost Nation Theater's Founding Artistic Director

Kim Allen Bent

in the cast are:
Sorsha Anderson (Midsomer Night's Dreame),
Alexa Kartschoke (Cabaret, Side by Side by Sondheim),
Susan Palmer (Vermont Shakespeare, Vermont Stage)
and Eric Warwick.
The ensemble serves as almost a Greek Chorus – guiding the audience and commenting on the action. These versatile actors also create the tale's many protagonists, as the play moves forward and back in time – examining memories, dreams of what could have been, and new realities.
"So much about mothering involves a kind of letting go and this story explores this at its deepest core.
It is timely, compelling and moving."
– Susan Palmer
My Mother's Three Mothers also features the inventive work of an inspired creative team.
Assisting director Keenan are movement and choreographic consultants Taryn Noelle and Kimberly Ward.
Costumes are by Charlene Sroka.
Jacob Sikorski designs the lighting and projections. Kelly Daigneault designs a dreamscape scenic environment and properties to match.
Andrew Vachon handles the intricate sound design. Caroline Saltz serves as production stage manager.
"This story is about love, loss, and figuring out how to reconcile the two inconsolable points of the reality of life: We can't control our pasts or what happened to us, but we can choose to live in hope, and trust in those we love, now. A truly remarkable play written by a Vermont playwright - which makes it a double joy."
- Kim Ward
Lost Nation Theater: 2020 "Theater of the Decade" - Broadway World, "Best in New England"- Yankee Magazine, and named One of the Best Regional Theaters in America by NYC Drama League is Sponsored by Capitol Copy, City of Montpelier, Vermont Mutual Insurance, Eternity, National Life Group, Leahy Press, Vermont Arts Council and The World.
Join Us! May 25–June 11. 7:30pm Thursdays–Saturdays; 2:00pm Sundays.
(The performance will also be available via live stream or digital recording.)
Masks are preferred & strongly recommended for in person attendance, but not required.

Tickets are $10 – $35 (depending on ticket-type. Guaranteed reserved seating available for additional fee.)
Available On-Line; by Phone (Tu-Fri, 11am-3pm)
or avoid credit card charges and purchase via cash or check In Person at Montpelier City Clerks Office (M-F, 8:30am-4pm).
phone: 802-229-0492. email: info@lostnationtheater.org