Evan Pritchard & Rick Hunt: Alegwasimek 8thlokadin
May 11, 2022
Storytelling, Music, and History Meets Spontaneous Mural-ing
as Evan Pritchard and Rick Hunt Join Forces for the First Time On Stage
Lost Nation Theater's Alegwasimek 8thlokadin: Abenaki Artists Speak series continues with noted historian and author/sought-after storyteller and musician Evan Pritchard .
He's joined on stage by "the Jimi Hendrix of the magic marker" - visual artist and muralist Rick Hunt.
Evan & Rick are working together for the first time!
As Evan spins stories and sings songs, Rick will spontaneously create a 4 foot by 8 foot mural inspired by all that he is hearing.
It's an amazing process to behold!
Interwoven between songs and stories, Evan will share historical context, anecdotes and details of different ceremonies and customs.
Some of the songs you'll hear have been written just for this occasion.
You don't want to miss it!
Friday Night will also feature a welcoming ceremony performed by local Abenaki Andrea Brett.
(Evan is traveling from upstate NY and Rick from Littleton NH.)
We once again send a very special thank you to Deb Reger of Moccasin Tracks for her assistance connecting us with artists and refining our programming ideas.
Also This Weekend - Saturday May 14th at 2pm Mia Leonard Will Lead A Language Workshop
Mia Leonard is a descendent of Eva Watso, born on the Odanak reservation in Quebec Canada in 1899 to parents Louis Watso and Katherine Tahamont. Inspired to continue the living breathing thread of connection to her ancestors Mia has been a part of the Abenaki language community since 2021. It is a great joy for Mia to share and explore this language with others, to help keep it vibrant, vital and in use. She teaches preschool and lives in a yurt in Vermont on Wabenaki territory, with her partner and only 'child', her dog Mera.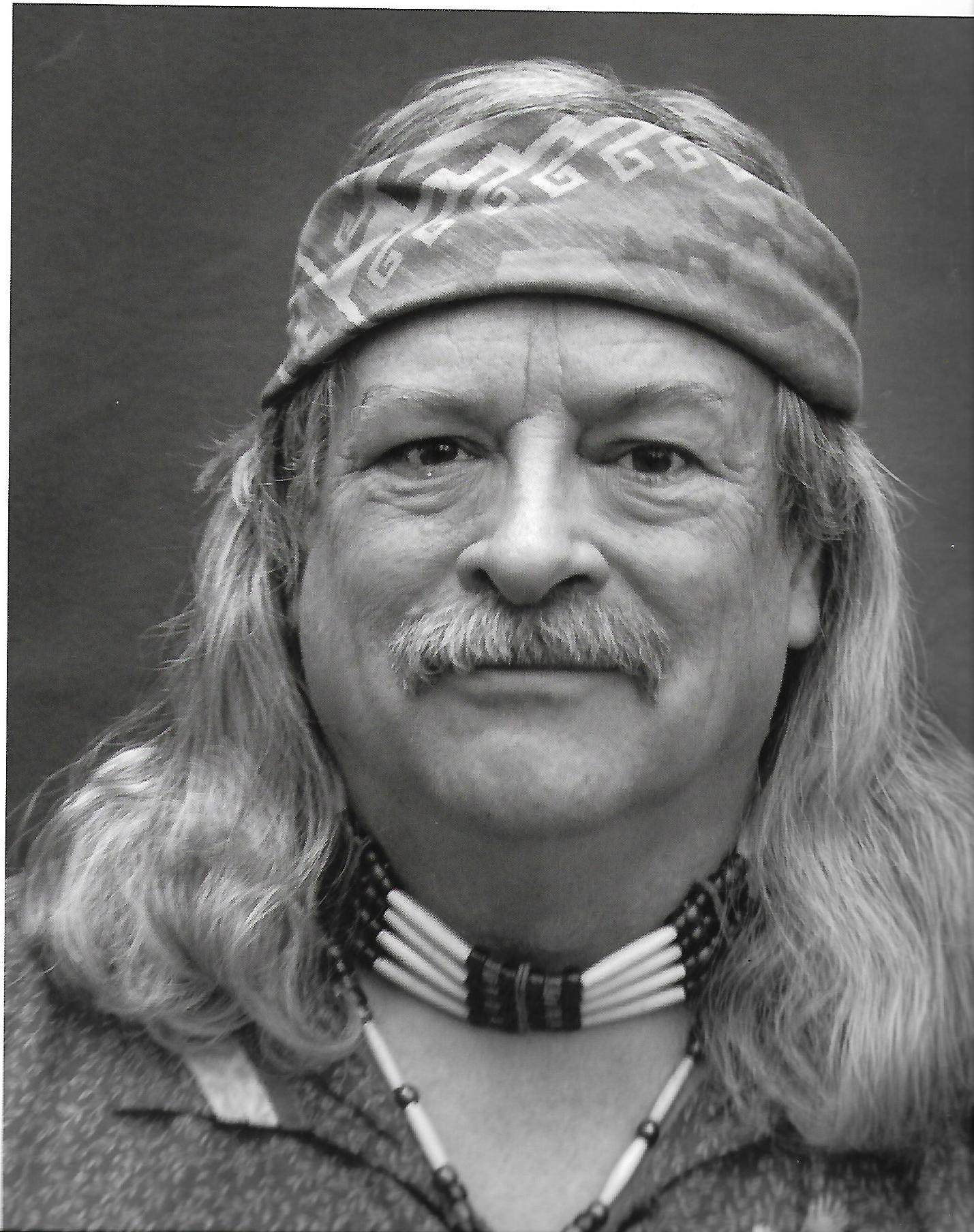 About Evan Pritchard
Evan Pritchard of MI'kmaq and Celtic descent, is a Juilliard-trained musician, guitarist, composer descent, and has been doing field interviews with Native American elders since 1990. He has been the director of Center for Algonquin culture for the last 24 years. A lecturer on native studies at Vassar, Pace, Marist, Columbia, SUNY, John Jay, University of Ontario, and UMass, he has also presented at Gracie Mansion, AMNH, and the Smithsonian.
He has written over fifty books on native culture, history, language and spirituality, including Native New Yorkers; Henry Hudson and the Algonquins (Chicago Review Press); Bird Medicine (Inner Traditions/Simon and Schuster); Native American Stories of the Sacred (Turner Books) No Word For Time (Millichap) Red Head Band (Resonance Books) and a collection of multi-lingual (English and various Algonquian languages) poetry.
Evan has lectured frequently on The Way of the Heron, a body of traditional Algonquin knowledge about conflict resolution and trust building. Evan facilitated workshops in Wabenaki culture at Northwoods Stewardship Center in Charleston, VT (2017) as part of the Cultural Regeneration Project and has been a frequent guest on Pacifica's Mocassin Tracks Radio with Deb Reger.
He has self-published two volumes of Native American drum songs, in western notation, and has been involved in the recording of several CD releases of Northeast Native American drum songs as well, such as Eastern Abenaki educator Watie Akins' For the Grandchildren: Pageant Songs Plus Songs from the Past. (2008) Known for his renditions of Mi'kmaq songs, he accompanies himself on a moose drum, and turtle shakers, and also plays a cedar flute custom made by Pacifica Radio's Tiokasin Ghosthorse with which Evan can play bird calls in the original key. He often performs on an Abenaki-made "Djee-gum-a-desk" a rare and ancient rhythm instrument (made from white ash) which is unique to the Wabanaki people, related to the slapstick and "spoons." He has also released five studio CDs of original guitar/vocal songs, and has a 100 page songbook entitled "Fireflies" for classical guitar and vocals, which blends jazz, folk and classical seamlessly together.
Evan is best known as the leader of "Tribal Harmony," an ever-changing collective of Native American musicians performing together before live audiences in all styles. He's shared the stage with many native and non-native performers at once including Margo Thunderbird, Blanket Man, Pete Seeger, Roland Mousaa, Carlos Nakai, Sage Pritchard, The Spirit of the Mountain Drummers and Matoakah. Joseph Fire Crow, Rainbow Weaver, The River Town Kids, Ulali, master sax player from the Afro- Yaqui Collective Benjamin Barson, Hothouse Flowers' Bodhran player Laim O'Maonlai, Jay Ungar, and Molly Mason.
He can be reached at evan.pritchard7@gmail.com or www.algonquinculture.org.
About Rick Hunt
For many years, Rick and his wife, Storyteller Carolyn Black Hunt performed all over New England as The Laughing Couple. Together, they shared tales in the Native Northeast Woodland Tradition with Rick creating spontaneous, improvisational murals as Carolyn shared the stories from memory, often improvising interpretations of the stories along the way.

Rick is distinctive in that he not only works alone; but also in cooperation and creative fusion with other artists whose creative expression ranges from
storytelling, written stories, poetry and music.
It's often been said of Rick Hunt that he walks in two worlds. In the title of an event at the Abbe Museum in Maine was entitled "Twisted Path: Contemporary Native American Artists Walking in Two Worlds, in which Rick was one of ten esteemed featured artists who depict unique artistic expressions of living in two worlds; both Native American and contemporary culture.
Music has played a great part in Rick's life and artistry; and not surprisingly, he's been sought after to create posters, album covers, and portraits of some of music's greatest legends - from Bob Dylan to Aerosmith!
Drawing since he was "old enough to pick up a pencil," Rick eventually studied art at Franconia College and Massachusetts College of Art. He's had solo shows at Madison Square Garden and in galleries across the country.