Mary Gow reports on LNT's 2017 performance and education programs
December 30, 2016
article reprinted with permission

Lost Nation Theater announces ...
By Mary Gow, staff correspondant
|
December 29,2016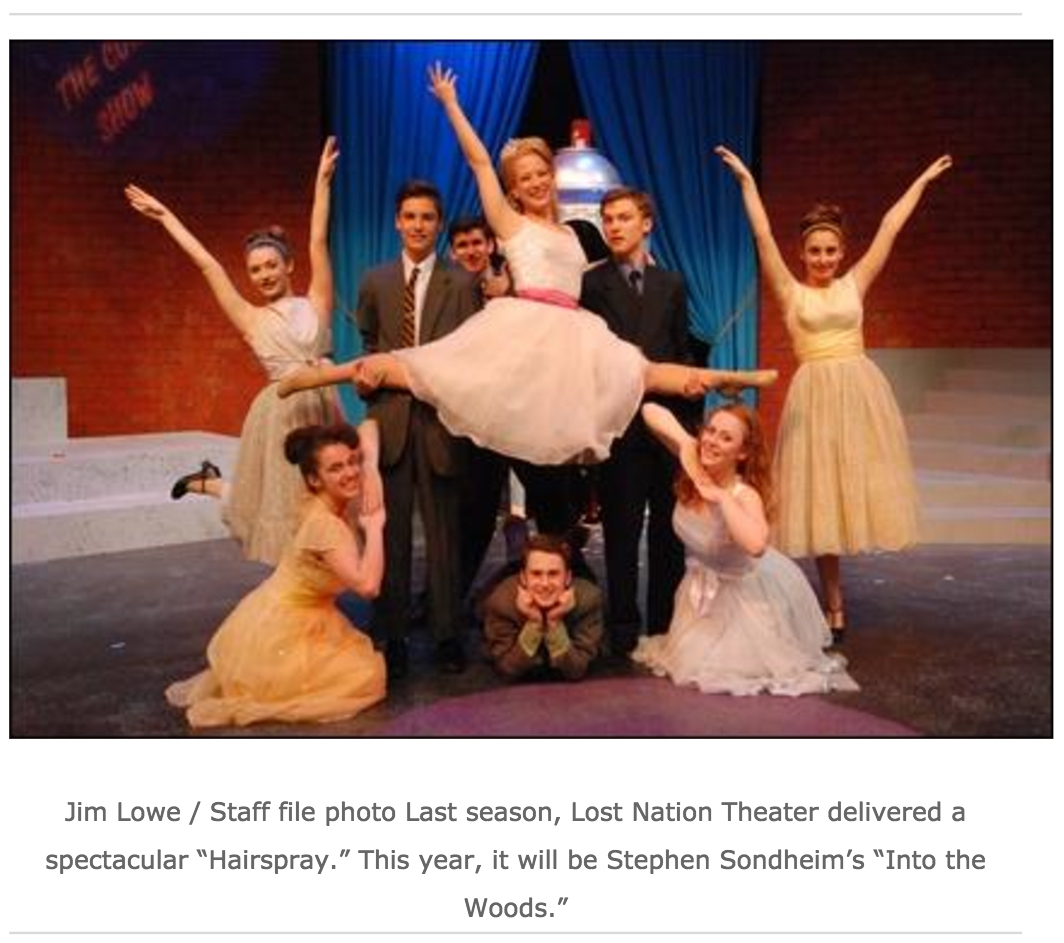 From an iconic Vermont town to the fantasy of Grimm's fairy tales to the life of an enchanting celebrity, Lost Nation Theater is bringing a compelling range of people and stories to the Montpelier stage in 2017.

Lost Nation Theater, Montpelier's resident professional theater company, is known for presenting an eclectic and thoughtful program of drama, comedy and music every year. From big, lively musicals to in-depth one-person biographical plays, plus educational programs and youth productions, LNT offers an impressive breadth of live theater to central Vermont audiences.

The new year also marks an LNT anniversary. Founded by Kim Bent, LNT was incorporated in 1977, when it was based in Bristol. LNT moved to Montpelier in 1989. With its home stage at Montpelier's City Hall Arts Center, LNT is led by Bent as founding artistic director and his wife, Kathleen Keenan, producing artistic director.

LNT's main stage season runs April through October and includes well over 100 performances. The season features five shows, David Budbill's "Judevine" through "Will," as well as Theater for Kids by Kids. Beyond tickets for individual events, LNT offers season passes, available at their lowest early bird prices to Dec. 31. Through the year, LNT also hosts, sponsors and collaborates on many special events.

This year kicks off with a special event, the "Dave Keller Band's New Year's Eve Extravaganza" this Saturday night. Music, dancing, desserts and a midnight ball drop ring in 2017.

"Judevine," the late David Budbill's poetic perceptive portrait of a day in the life of a Vermont town, opens LNT's season in April. Canadian logger Antoine, Vietnam veteran Tommy, and other compelling ordinary people come to life with intense humanity. This is LNT's third "Judevine" and follows the company's acclaimed 2007 and 2008 productions.

"'Judevine' is very close to our hearts," said Bent, who again directs the production. "Telling Vermont stories is part of our mission. With David's passing this year, we feel it is important to remember him by remounting this show. Many actors who were in the cast 10 years ago are joining us again."

Stephen Sondheim and James Lapine's Tony Award-winning musical of intertwined fairy tales, "Into the Woods," is next on the program. Jack, of beanstalk fame; Cinderella; Rapunzel; and other familiar characters cross paths on their arboreal journeys, singing memorable songs along the way. Tim Tavcar, in this 20th season with LNT, is directing, joined by musical director Lisa Jablow.

Jules Verne's classic circumnavigating adventure becomes a quick-change comedy in LNT's "Around the World in 80 Days," in July. In his mad dash to beat the clock and win his wager, Phileas Fogg travels by elephant, train, ship, and other modes on his exotic fast paced trek. Directed by Keenan, a cast of five actors plays dozens of characters in the tale.

"Alexander and the Horrible, Terrible, No Good Very Bad Day" and "Mary Poppins" culminate two of LNT's summer theater education programs for youth in August. In February, LNT also offers a theater camp over school vacation. LNT's camps give young people, ages 6 to late teens, opportunities to explore theater, hone skills and perform in fully staged productions.

"Our education programs are integrated with the company. Students have resources of the full company behind them including with lighting, costuming, dance theater, live sound effects," said Keenan. "The camps offer wonderful experience. We set the bar high — expecting the best from participants helps them take their work to the next level."

In September, "Kate: An Unexamined Life" by Rick Foster offers an intimate view of the enigmatic actress Katharine Hepburn, played by Janis Stevens. This new play, in development for the last couple of years, was written by Foster specifically for Stevens to play this role. "Kate" brings together the same playwright/actor team as "Vivien," about Vivien Leigh.

Fact meets fiction in "Will," a new play by Jon Glascoe considering Shakespeare's experience and personal life at the time he wrote "Hamlet." "Will" is a co-production with the Vermont Shakespeare Festival.

"Jon has worked extensively with historical facts and has come up with (an) evocative story about how 'Hamlet' came to be," said Bent.

"Lost Nation Theater is dedicated to presenting an eclectic season and to building on what came before. We are excited to be bringing back artists we worked with before and in continuing that collaboration, including with Janis as 'Kate' and Tim Tavcar and Lisa Jablow with 'Into the Woods.'"

Many LNT veteran designers are on board in 2017. These include scenic and lighting director Mark Evancho for "Into the Woods," Clay Coyle doing scenic and lighting for "Around the World in 80 Days," and costume designers Cora Fauser and Charis Churchill.





Lost Nastion Theater 2017

- April 20-May 7: "Judevine"

- June 1-18: "Into the Woods"

- July 6-23: "Around the World in 80 Days"

- Sept. 7-17: "Kate: An Unexamined Life"

- Oct. 5-22: "Will"

For information or subscriptions, call 802-229-0492, or go online to www.lostnationtheater.org.