The Reviews Are In! "Go See Turn of the Screw"
May 07, 2019
"See It! See It!! See It!"
Laura Lee Dukeshire's impassioned encouragement on Facebook very nicely, sums up critical and audience response to Lost Nation Theater's Season Opening production of Jeffrey Hatcher's adaptation of The Turn of the Screw by Henry James.
LNT's production, directed by founding artistic director Kim Allen Bent, plays through May 12.
Our hats are off to Kim, designers Donna Stafford (scenic), Charis Churchilll (costumes), David Schraffenberger (lighting), Stevie De (properties & stage management), Tim Tavcar (music); cast members Laura Michele Erle (The Woman) and Christopher Scheer (The Man) and our clever Technical Director Robyn Osiecki, for creating such a spectacular production.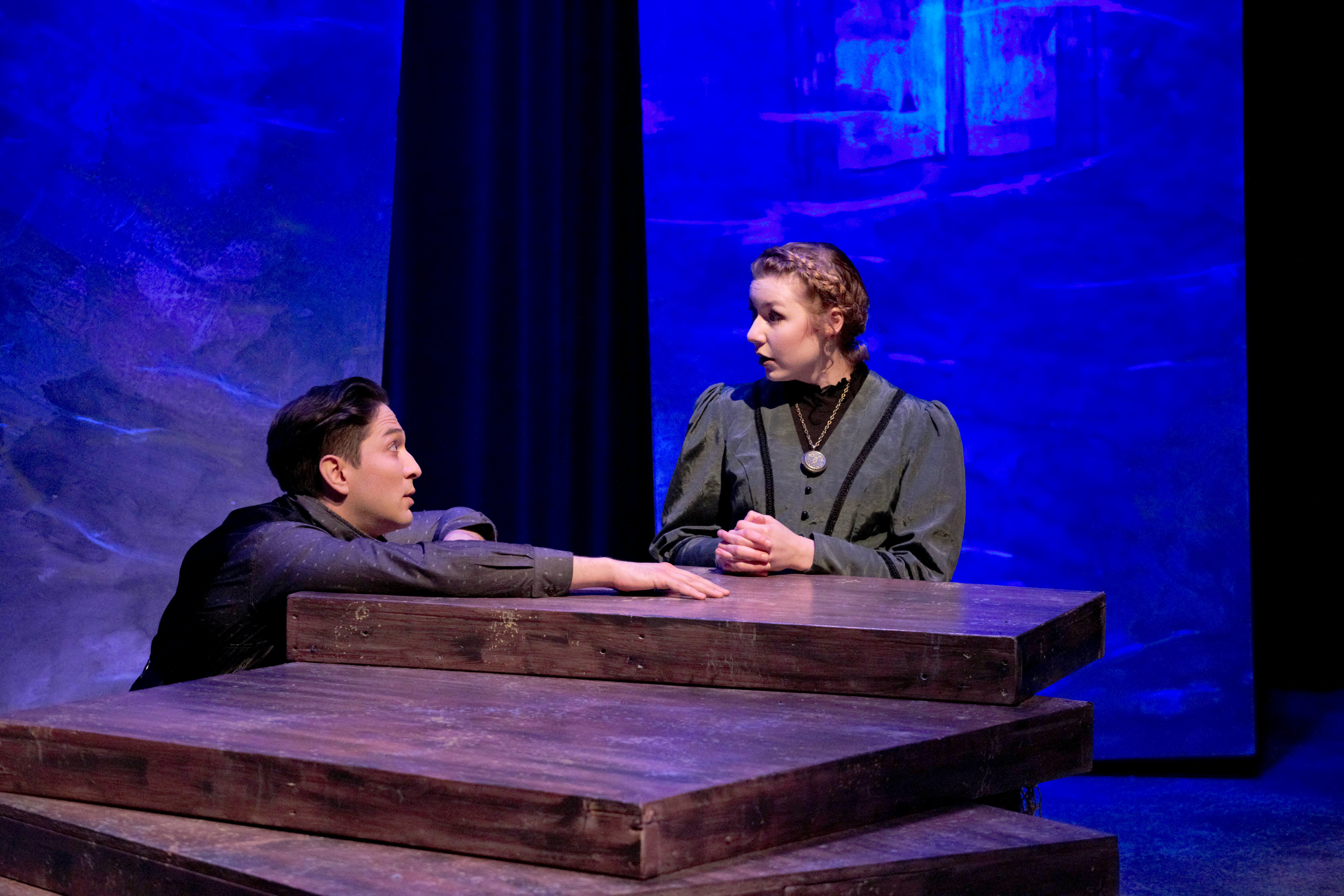 photo credit: Danielle Wirsanksy, LNT

Here's what folks are saying:
"See it ... See it.. See it!!! OMG. It is an awesome play.. causes some incredible dialogue over dinner... Don't Miss This!!
If you haven't seen this play ... GO GO GO!!!"
- Laura Lee Dukeshire (on Facebook)
"Bloody Brilliant. #mustsee" - Chris Bohjalian
(the national best-selling author was at Opening Night
and posted this on Instagram that evening)


"Don't miss this, Central Vermont! Riveting performances.
The fastest--and most enthralling --seventy-five minutes, ever. Well done, LNT."
- Sandra Erickson on Facebook
"If you're looking for a thought provoking, ending-that-you-didn't-see-coming kind of show, don't miss "The Turn of the Screw" at Lost Nation Theater in Montpelier!!
I can't say enough about how phenomenal these two actors were!"
- Taylor Burgess on Facebook
"Lost Nation Theater Does It Again!
Lost Nation Theater's superbly done adaptation of Henry James' classic eerie novella The Turn of the Screw.
Laura Erle creates a wonderful multi-dimensional portrait of the governess, with Christopher Scheer convincingly playing all other characters.
Set, music, lighting all work to keep you in suspense and wondering
Professional live theater in our small city is A great treasure--come out, support, and,--DO ENJOY THE SHOW!"
- Nora Zablow, Front Porch Forum

photo: John Snell
Razor Sharp Acting! - Seven Days
"In the Lost Nation Theater production, the actors are the centerpiece.
Laura Michele Erle plays a sympathetic young governess with pure Victorian pluckiness.
Christopher Scheer uses voice and movement to create a stuffy narrator, an aloof London bachelor, an aging housekeeper, and a young boy who's by turns angel and devil.

The show crackles as the two performers build scenes with perfect timing, working like musicians to dazzle with the rhythm of their exchanges.
At first, these are short, rapid bursts, as the governess tries to learn what other characters are hiding. Then the story builds, driven by the intensity of the performers.

The play flies by without intermission in 75 minutes.
That's plenty of time to enjoy the splendid costumes by Charis Churchill and razor-sharp acting by Erle and Scheer."

- Alex Brown, Seven Days
"Richly Textured... Impressive... An Auspicious Start to LNT's 31st Season" - Charlie McMeekin, The Herald
Great attention to detail. Awesome show! - Linda Henzel on Facebook

A Must-See Show - Diana Kagan on Facebook
What a great night! We enjoyed the experience immensely and will make sure to check out more this season!
- Sue Barr Dellipriscoli on Facebook
On-the-Edge-of Your-Seat Explosive - The Times Argus
Did she imagine it, or did she really find herself in a life or death battle with ghosts of the past?
Such is Henry James' gothic tale "The Turn of the Screw," and Lost Nation Theater opened a production of Jeffery Hatcher's two-actor adaptation, Friday at City Hall Arts Center, that proved human, humorous and genuinely scary.
Erle and Scheer, moved in and out of situations quickly and convincingly, culminating in the on-the-edge-of your-seat explosive ending. That was thanks to excellent ensemble acting expertly directed by Kim Allen Bent.
Lost Nation Theater's "The Turn of the Screw" proved rich storytelling, riveting, entertaining and frightening.

- Jim Lowe, The Times Argus
photos: Danielle Wirsansky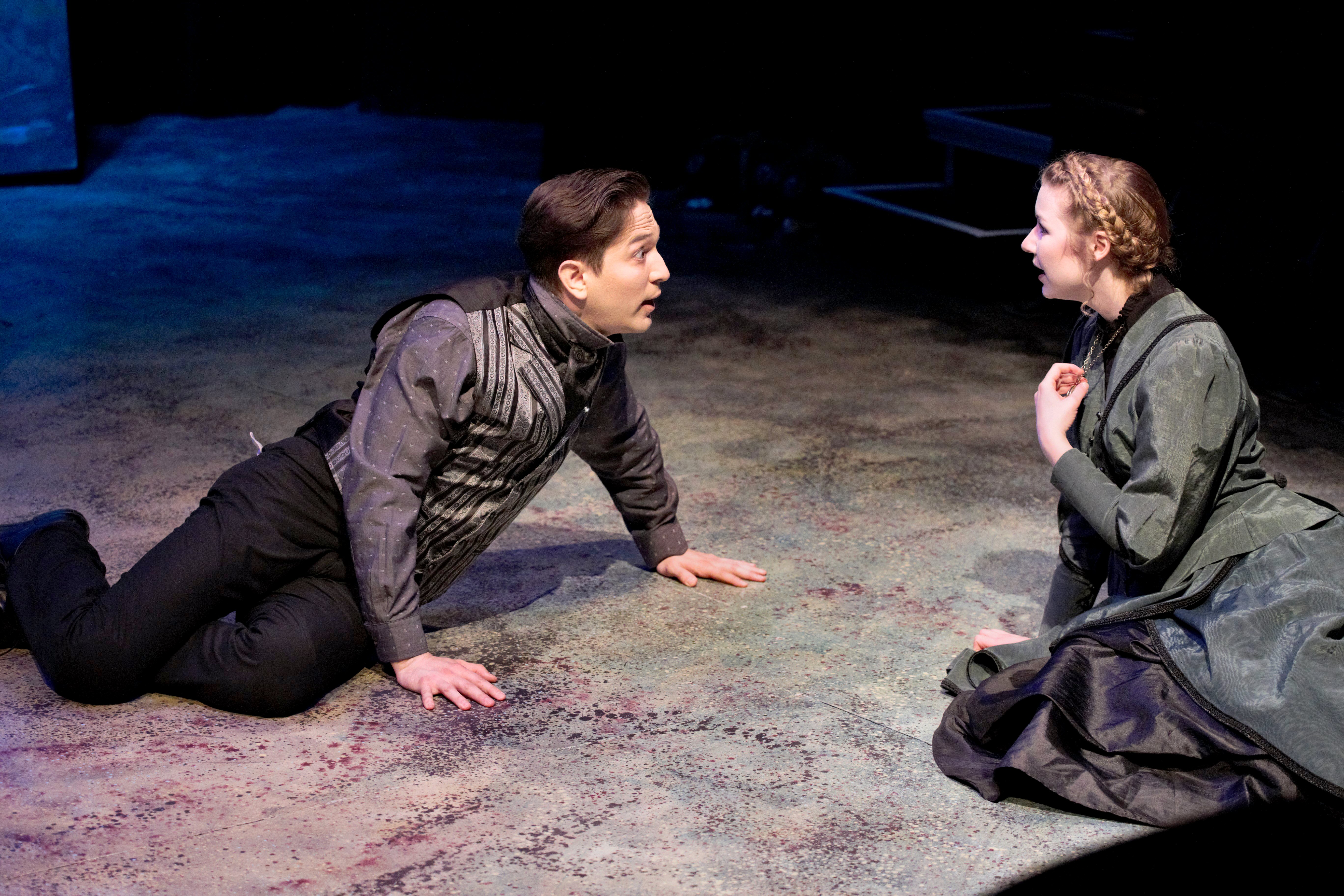 photo: John Snell