Side by Side by Sondheim is Winning Raves
October 18, 2022
Wanna Know What Folks Are Saying
About our Side by Side by Sondheim?
They're loving it!
Here's some examples from critics and general audience members alike:

"Masterful & Elegant. Just Delightful" - Cora Fauser (email)

"A most Brilliant Production and I want to encourage you all to see this vibrant and upbeat performance!" - Shanda Dee Williams (Front Porch Forum)


Wow! What a Fabulous Production! - Art Zorn (whose artwork is on display in the LNT gallery) (email)


"Loved this whole show. Happy and joyful, all with great talent" - Mary Scripps (Facebook)


"Wonderful! (Saw the original show in London.) An amazing experience. Congratulations to all!" - Bob Saikevicz LaCasce (Facebook)


"Awesome" - Trish Eaton (Facebook)


"I saw opening show of Sondheim last night & it was

Phenomenal

! (Actually preview night but it was flawless in my eyes)! The songs (50+)are mostly familiar & range from comical to loving & tender & voices are all so enjoyable.


The singers & pianist are top notch from large voices to soft sweet voices. The pianist plays throughout the whole production right on stage & he's fantastic! Also loved the choreography. I'll definitely see it again!" - Lindsay Wade (Front Porch Forum)


"The Whole Show Was Wonderful. Electric" - JH. (email)


"Brava. Bravo" - Tony Keller (in person)


Don't miss this UPLIFTING Performance by this Talented Collection giving us, Side by Side by Sondheim, right here in our Hometown City Hall.
We are so blessed to have The Lost Nation Theater!!!
Terrific Pianist , Skilled and infectious...
You don't want to Miss this! - E. Winston, (Front Porch Forum)


LNT is a Gem! - D Peters (email)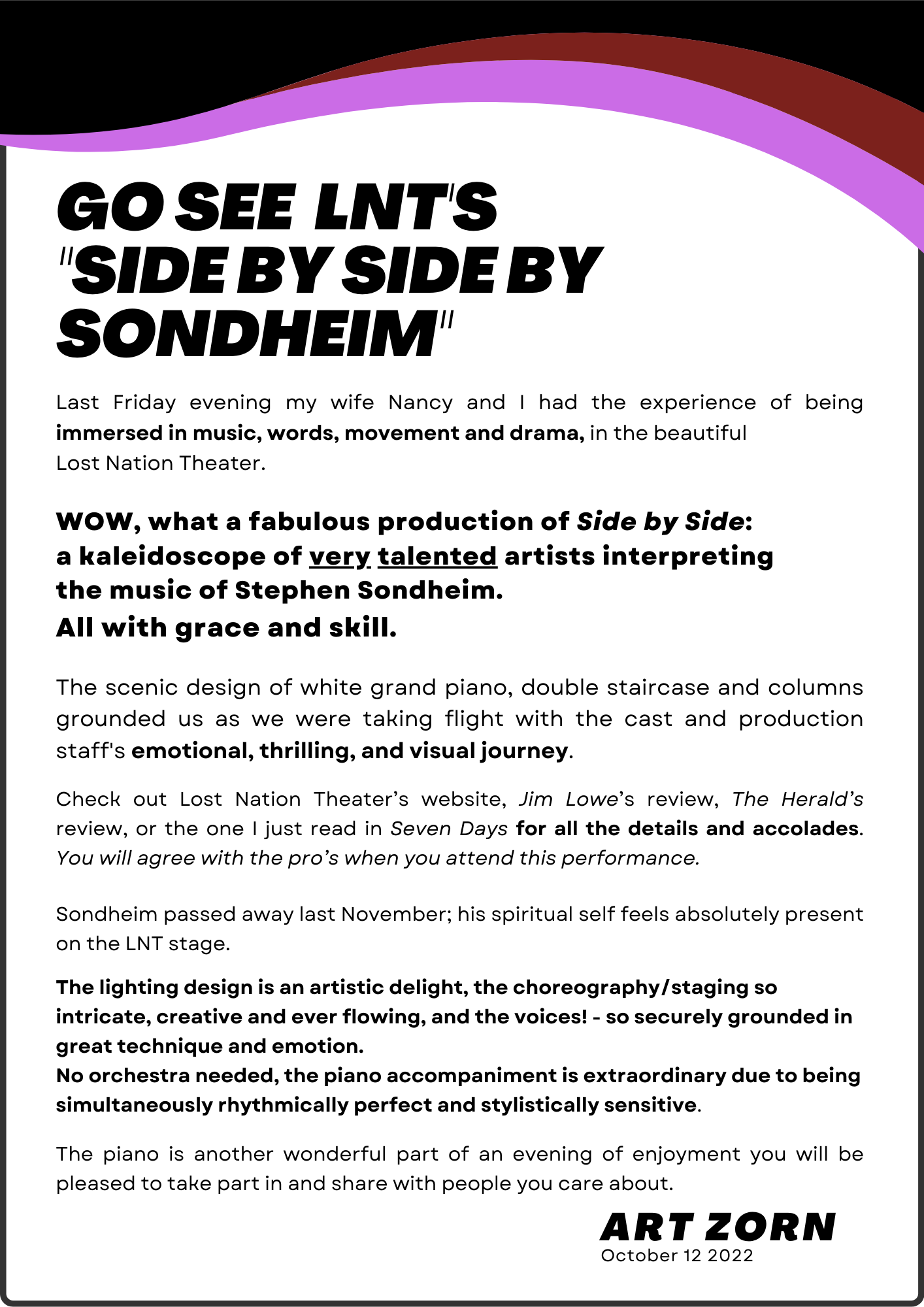 Charlie McMeekin's Review in The Herald
Sometimes theater is more than a show on a stage. That's what kept me directing plays for more than twenty years, and it's what Lost Nation Theater means to central Vermont. It's a place that's been part of our lives since its beginnings, a place where we've watched actors, directors, and founders grow. And the current production of the musical revue "Side by Side by Sondheim" is a celebration of the connections, friendships, and memories that come packed into this brave little theater company in Montpelier. Kathleen Keenan, Tim Tavcar, William Pelton, and Kim Bent are all key members of this production, a full 25 years after they got together to do this same show in 1997! Given that the show is designed to be an appreciation of the work of one of Broadway's longest lasting creative geniuses, this felt like a perfect time to salute a theater company that's shown its ability to change, grow, and challenge for more than forty years.
Stephen Sondheim got more Tonys than an Italian family, and his music is known to most of America. And each member of the ensemble gets their own special moments to shine as they honor his work. Kathleen Keenan won my heart with her rendering of "Send In the Clowns", displaying an emotional dexterity that was rich and controlled. Bill Pelton creates a wistful reminiscence of an aging man in "I Remember". And Tim Tavcar provides a wonderful performance of "I Never Do Anything Twice". These three actors form half the cast, and all of them appeared in LNT"s production 25 years ago.
In any family, there's room for newcomers and visitors. Alexa Kartschoke appeared with LNT for "Cabaret", and gives a mesmerizing performance of "Losing My Mind" from Sondheim's show "Follies".Taryn Noelle, who has worked with Lost Nation for ten years, is a member of the singing ensemble, but also is the cast choreographer. Her magic moment had to be the energetic "Another Hundred People" from "Company. And she provides star movement which is creative, tight, and polished.
The sixth member of the ensemble, who deserves special mention, is the first person you meet. He greets you as you walk into the theater, sitting at his white baby grand piano, playing about thirty minutes of pre-show Sondheim tunes. Tim Guiles is listed in the program as the musical director and accompanist, and he's certainly both. But he also gets a moment in the show when he performs the first solo of Act Two, "Anyone Can Whistle", sung while he plays the piano.
The bulk of the show is carried by varied iterations of the ensemble, and embrace such musicals as "Company", 'Gypsy", A Funny Thing Happened on the Way to the Forum", and "West Side Story". The energy of the actors is infectious, and they have the vocal strength and range to pull off a very demanding program.
Kim Bent's set design is simple and elegant, enhanced by Sam Biondolillo's lighting.
This is the final performance of LNT's 2022 season, and you owe it to yourself to celebrate all that an acting company named after Braintree's own Lost Mountain can bring to life on stage.