Seasons Greetings - and How You Can Help LNT in 2023
December 30, 2022
Happy New Year!
We wish you inspiration and connection too!
Thanks for inspiring us!
Here looking back on 2022 and forward to 2023
with You!
With Your Help - It Will Be Amazing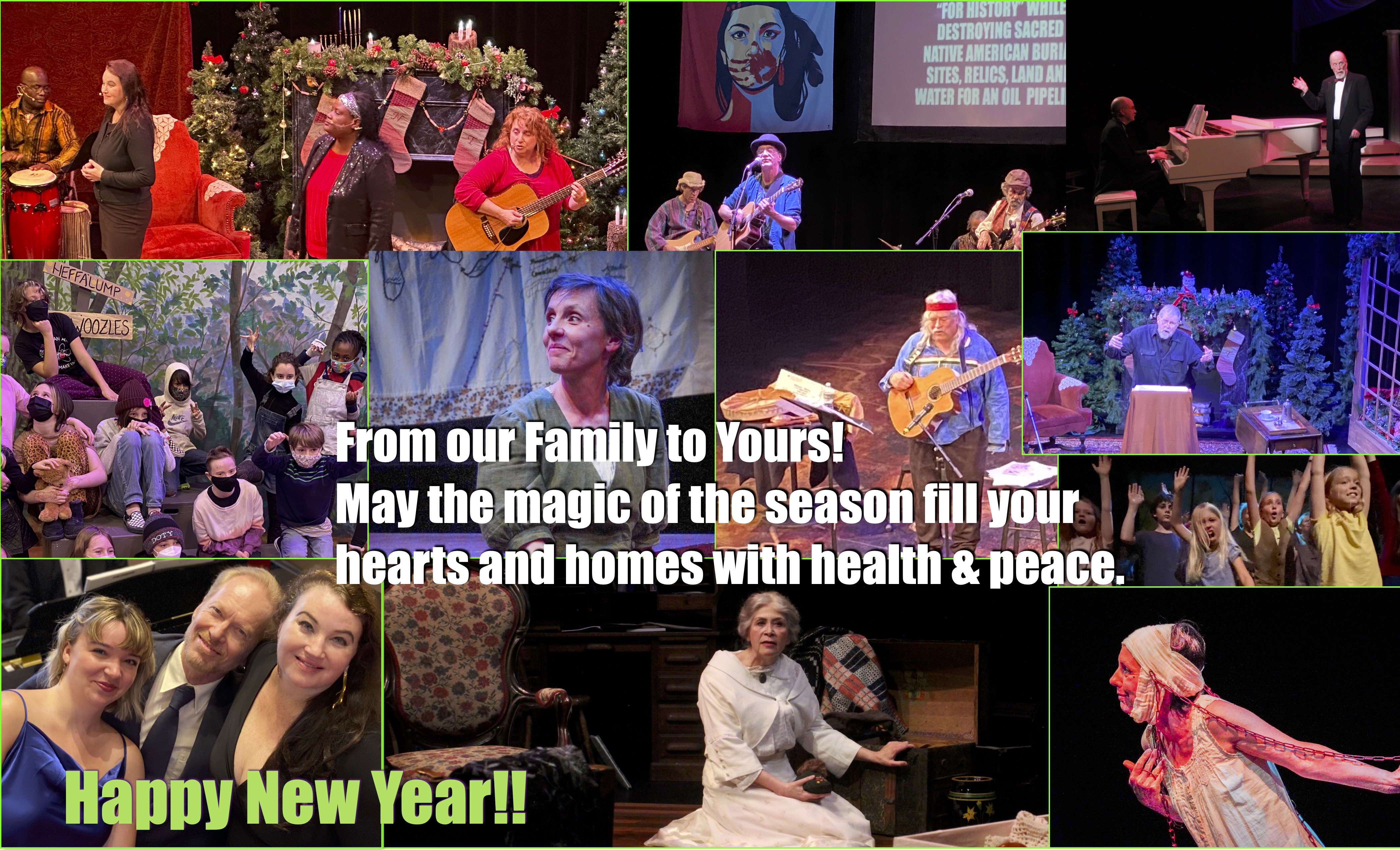 Please consider Donating (Do it Here)
Or Purchasing 2023 Season Tickets (Here)
FINDING OUR WAY – NEW VISIONS FOR 2023 AT LNT
We're Back!
In classic LNT fashion, the four mainstage plays of our 2023 Season range from blockbuster Broadway musical to hard-hitting, rap-style repartee, and from tongue-in-cheek fantasy to intense family drama.
With the help of the amazingly talented artists we've lined up to stage them, they're sure to be wonderfully rich, exhilarating experiences.
Two street-savvy Black men try to make it through one more day. Will they?

The daughter of an adopted daughter searches the branches of her complex family tree. Will she ever resolve its mystery?

A teenager just wants to be herself, without the mask. Too much to ask?

For a pair of famous writers, death is no release. Will their accursed life-after-life together never cease?
Theater asks questions. These compelling plays all ask important & timely ones about our post-pandemic world.
We hope you'll join us to navigate their suspense, secrets, and surprises.
A couple of highlights:
Lisa Gaye Dixon, who played"Bessie" in our Having Our Say: The Story of the Delaney Sisters by Emily Mann (2001), returns to direct the gritty, street-smart, Waiting for Godot-inspired play Pass Over.

And, long-time colleague & good friend Eric Love returns to direct a multi-generational cast of stage veterans and young, multi-threat actor/singer/dancers in The Prom!

A full-slate of education programs are back for 2023 too- for ages 6-96, and all levels from beginner to experienced pro.
This ambitious season of re-emergence won't be possible without your generous support.
The pandemic has taught us how strong and resilient we can be when we focus our resources. It's also taught us to ask for help. So, we're asking! Please subscribe and make a contribution now!

Over the past two years, we've built back carefully and safely.
In this coming year, with your continued support, we're confident we can once again bring you a full, substantive, fabulously entertaining season!
Your Contribution and Season Ticket Purchase Now will help ensure we can make these dreams a reality.
Not just LNT's dreams - but
the dreams of the students who receive scholarships to our programs because of your support;

the dreams of Vermont playwrights whose work receives its first professional full productions;

the dreams of our partner organizations (from Outright Vermont, Real Justice Vt, to Central Vermont Humane Society) whose missions and work is introduced to more folks, whose pets find homes, or who make new connections due to LNT's auxiliary programming;

the dreams of our artists;

the dreams of audience members who want to see really good theater!
We are deeply grateful for all you've made possible over the last 34 years!
We look forward to celebrating this incredibly joyful achievement with you soon at our chamber theater home within Montpelier City Hall!
Sincerely,

Kim Bent, Kathleen Keenan and LNT's 2022 Board of Directors, advisors, & staff
Please consider making a Donation (Do it Here)
Or Purchasing 2023 Season Tickets (Here)
Here's a look back at 2022:


and a Hint of 2023: