Pride & Prejudice is about to Launch!
September 24, 2019
Lost Nation Theater wraps up its 31st Season at Montpelier City Hall Arts Center by bringing one of Jane Austen's best-loved novels to the stage: PRIDE & PREJUDICE!
all photos on this page are courtesy of John Snell
It is a truth universally acknowledged that Jane Austen's Pride and Prejudice ranks among her very best works. Lost Nation Theater is thrilled to complete its 31st Season as Montpelier's Resident professional theater with Austen's PRIDE & PREJUDICE in a bold, surprising, boisterous, rollicking modern stage adaptation by Kate Hamill.
Literature's greatest tale of latent love has never felt so theatrical, so full of life, or so fun as it does in this effervescent, riotous and inventive adaptation.
Follow the trials and travails of Lizzy, Darcy, and the entire wonderfully idiosyncratic Bennet clan as Lost Nation Theater's Pride & Prejudice runs Thursdays thru Sundays, October 3 thru October 20, in our home within Montpelier City Hall Arts Center.
Pride & Prejudice explores the absurdities and thrills of finding your perfect (or imperfect) match in life. The outspoken Lizzy Bennet – the second of many sisters - is determined to never marry, despite no inheritance, and mounting pressure from the constrictions of society. Not to mention her mother! Her position is cemented thru a string of unsuitable suitors. But when she meets the handsome, rich and enigmatic Mr. Darcy, all feelings of attraction are muted by his pride and her prejudice.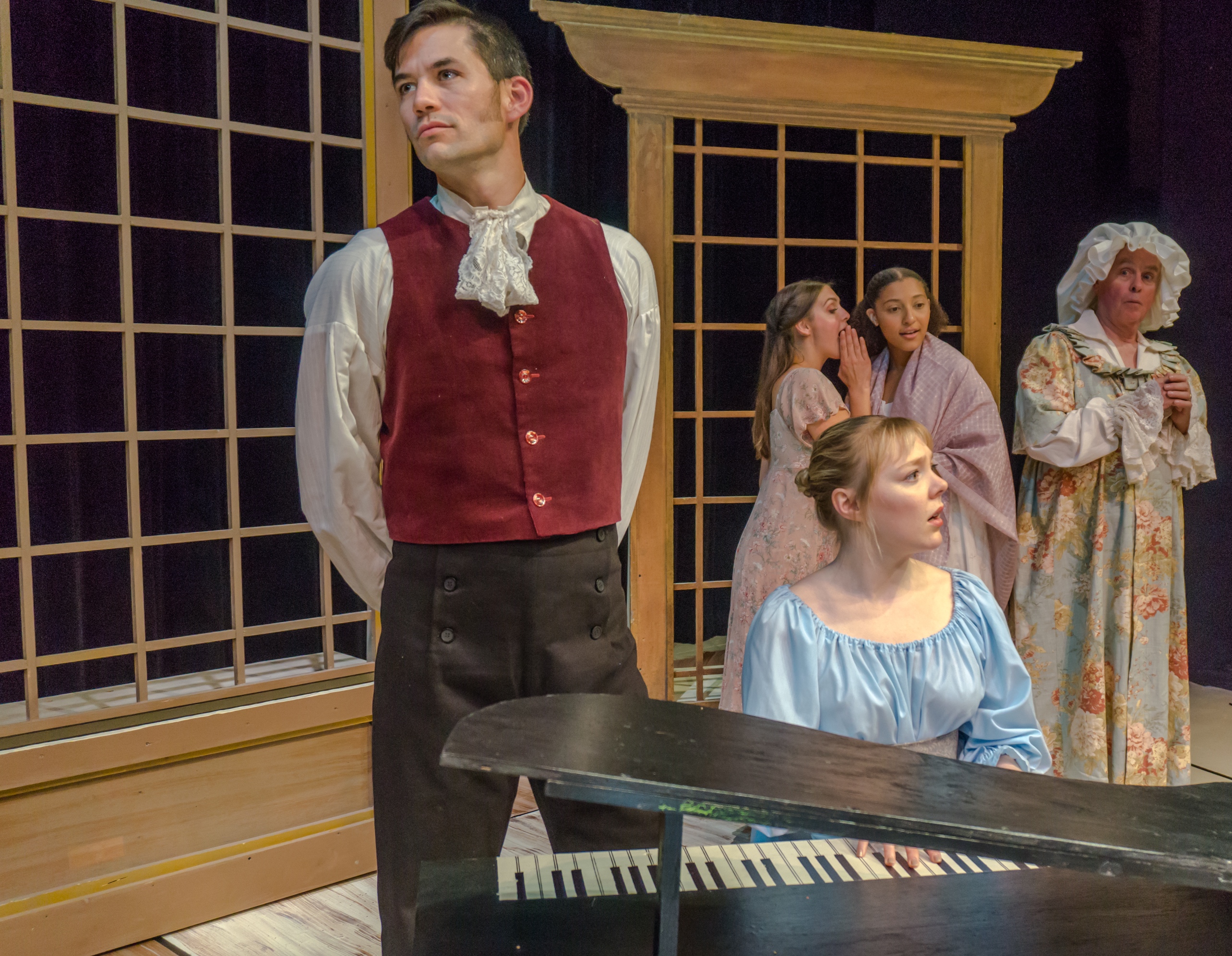 The Wall Street Journal describes Hamill's Pride & Prejudice as, "The stuff hits are made of...something completely and delightfully different. Pride and Prejudice done over in the revved-up manner of a Hollywood screwball comedy."
In her adaptation, Hamill (also responsible for LNT's 2017 Sense & Sensibility) is both reverently devoted to the source material and remarkably hilarious, irreverent, moving, and full of theatrical surprises that make the play all the more relatable to modern audiences. We now viscerally understand the pressures, the desire for self-determination, the ludicrousness of it all, and why Balls were so much fun!
Bringing the show to life is a cast of eight multi-talented actors -most playing multiple roles! Returning to LNT are Aaron Aubrey (Complete Works of Wm Shakespeare-Abridged); Kim Allen Bent (Founder of LNT, Red); Elizah Hill (Cabaret) and Abby Paige (Judevine). They are joined by NYC actors Essence Brown, Alex Carr, Anna Rock, and Katie Shults.
Lost Nation Theater's production team brings together costume designer Cora Fauser, scenic designer Lindsey Baldwin, lighting designer Joyce Liao and sound designer Tom Shread. Taryn Noelle choreographs. Christopher Scheer serves as dialect coach and puppetry consultant. Completing the team are stage manager Tanner Lias, and technical director Robyn Osiecki.

LNT Producing Artistic Director Kathleen Keenan (39 Steps, To Kill a Mockingbird) directs.
She says:
"Jane Austen was a radical. The fact that she wrote these stories, that they were completely from the feminine perspective, with women characters at the core, saying what her characters say – was radical. And that's one reason I love Kate Hamill's adaptation. It's explosive! She does some wonderfully radical things – but always stays true to Austen. She simultaneously honors – celebrates - Austen and theatrical craft. It makes for pure joy and demands full creativity, collaboration, and out-of-the-box thinking!"
Or, as sound designer Tom Shread puts it: "We want to suggest the period without being constrained in the corset of historical authenticity. We're going to go all out and have fun!"

"An Unconditional Delight." -NY Times "Hysterical and Imaginative" – The Chronicle