April 16, 2019
New Auditions for Performers and Interviews for Technicians for admission into Lost Nation Theater's most advanced and challenging Theater FOR Kids BY Kids Intensive.

This Summer: The Tony Winning THE WIZ
by Charles Small and William F Brown

Lost Nation Theater's ultimate: Theater FOR Kids BY Kids production - the result of a rigorous 2-week training intensive.
The Wiz script employed is one geared toward youth.
LNT is seeking to cast an inclusive and diverse company of performers and technicians in honor of the history of The Wiz and the beauty of Vermont.

(If we are unable to cast as inclusively as the show warrants, we will present The Wizard of Oz.)
The Wiz will perform 5 shows, Aug 16-18, 2019, the culminating project of our most advanced intensive.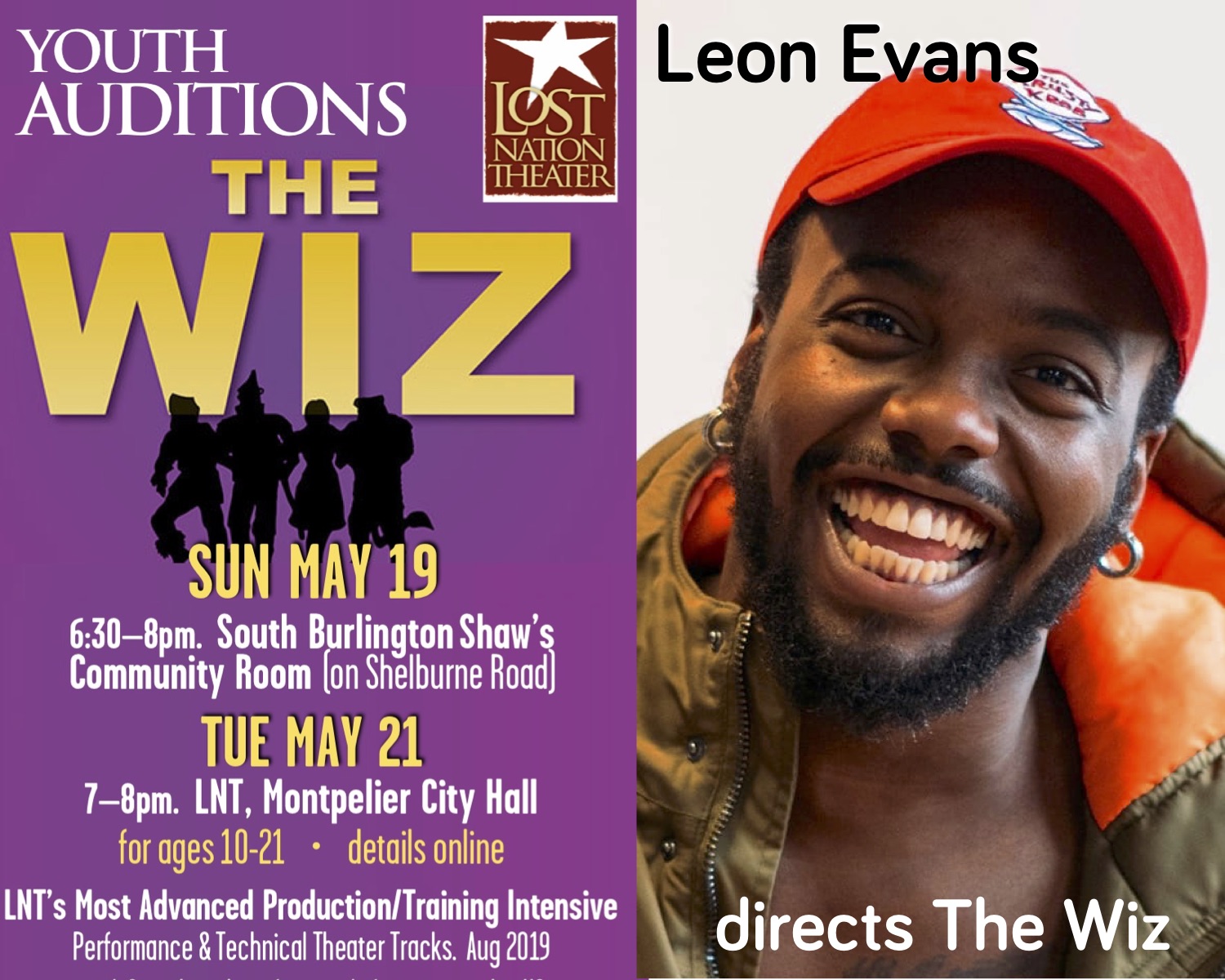 Designed for aspiring professionals, the focus is on honing new skills through a rigorous & intense professional rehearsal process with specialized classes.
Highest levels of concentration, collaboration, openness, ensemble-spirit, and self-discipline are demanded.
For performers classes include character-development, physical acting, voice, choreography & dance, theater protocols and "biz- savvy" audition prep.
For technicians: study with professional designers & stage managers, while working on the scenic, lighting, props and management of The Wiz.
Week one includes overview in all areas, classroom study and hands-on experience. Week 2: focus in specific area of technical theater and run crew experience.
Click here to find out about costs. Scholarship assistance available. Scholarship application is here.
Final Rounds of Auditions/Interviews for Acceptance to the Ensemble Rescheduled to:
6:30–8pm; Sun May 19 in (So) Burlington at Shaw's Supermarket Community Room (570 Shelburne Rd, Burlington VT 05401)
7–8pm Tue May 21 in Montpelier at LNT (39 Main Street-City Hall, 2nd Fl, Montpelier VT 05602)
First come-First Served (no appointment necessary)
Again - These audition/interview process is to "make it" into the production's ensemble.
CallBacks for specific roles will happen in June.
Auditioner: LNT Education Leader & Wiz Co-Choreographer Taryn Noelle (in Burlington). LNT Producing Artistic Director Kathleen Keenan (in Montpelier)
Camp/Production Leaders include: director/choreographer Leon Evans ("Seaweed" in LNT's Hairspray) director/choreographer (and Vermont Arts Council's "Excellence in Arts Education" Award Winner Taryn Noelle, and other professional theater artists working all across the country
Get more info & details here: http://lostnationtheater.org/intense-camps/
For Performer Audition Prep:
- short memorized monologue and memorized 32 bars of song (no longer than 2 total minutes; sing a cappella)
- headshot (photo of you) and resume
- you'll present your pieces and then the auditioner will likely ask for you to do a certain section of your monologue or song in a different way.
For Technical Interviews Prep:
- Your Resume
- Your Portfolio (any photos of shows you've worked on showcasing the part of the show you worked on - or any other relevant materials - as much as possible)
- be ready to talk about what you hope to learn, what you biggest interest areas are, and examples of prior experience demonstrating that you have the stamina and focus to make the most of this experience