Les Filles du QUOI? Reviews Are IN
June 22, 2022
What IS Les Filles du QUOI?
and Should You Come See It?
Check out these Reviews!!
all photos on this page courtesy of Wayne Fawbush
writer/performer: Abby Paige; director: Kim A Bent;
scenic designer/artist: Clay Coyle, lighting designers: Samuel Biondolillo and Jamien Lundy Forrest; costume designer: Nancy Smith;
stage managers: Marissa Mattogno and Sarah Menard; td: Robyn Osiecki; pm: Kathleen Keenan; hm: Brandy Perez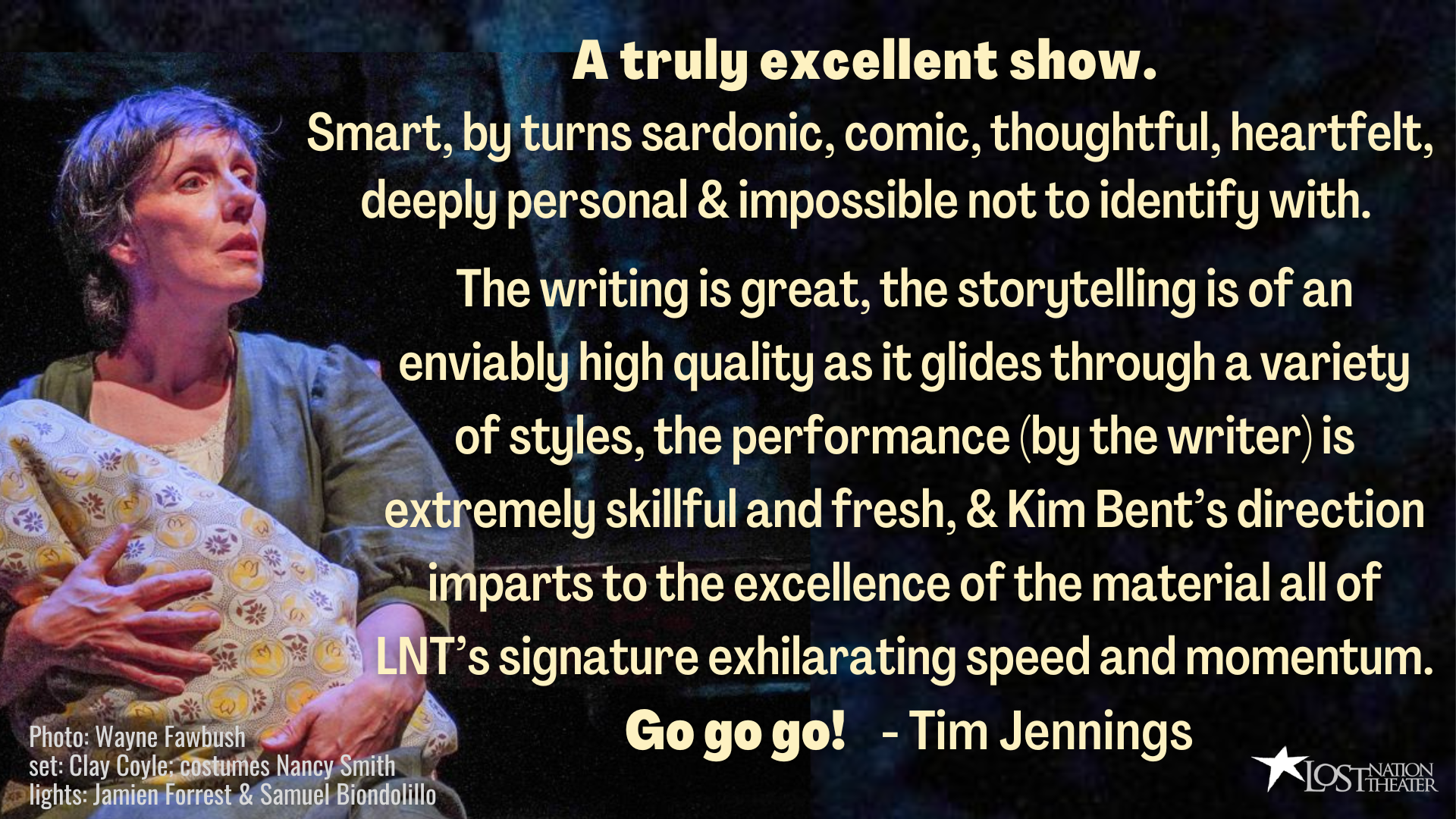 And here's what the 'Official Critics" have to Say:
"Abby Paige shocks her audience with the bizarre legend of Marie-Josephte Corriveau when she begins her serio-comic one-woman show retelling her quest for identity. Strange, but funny — and poignant.

Lost Nation Theater opened its world premiere production of "Les Filles du Quoi?" Friday at Montpelier City Hall Arts Center. Thursday's preview performance ranged from hilariously funny to deeply touching — but always entertaining — as this American-born actress and entertainer tries to come to terms with her French-Canadian roots.

"Les Filles du Quoi," loosely translated as "The Daughters of Whom," takes its name from "Les Filles du Roi," or "The Daughters of the King," young French women recruited to immigrate to New France in the 1660s to marry settlers and boost the French population there. La Corriveau was clearly descended from these women, and the title of the show sums up Paige's quest.

In Lost Nation Theater's polished production, directed by Kim Bent, Paige changes costumes as she changes personae against a fluid backdrop designed by Claiborne Coyle. Pieces of illustrative fabric art by Danielle Hogan were added as the stories went along to a clothesline that began in much more unpleasant circumstances. The truly creative costumes were by Nancy Smith, and all was dramatically lit by Samuel Biondolillo and Jamien Forrest.

Les Filles du Quoi? is simply compelling and entertaining storytelling. It's also very poignant — and very funny.

– Jim Lowe, The Times Argus



Abby Paige & "Les Filles du Quoi?" Shine at Lost Nation Theater A keen social and cultural observer, Paige is a gifted and witty storyteller with excellent comedic timing... the audience rose in unison for the ovation" - Tom McKone, The Bridge
And here's what your neighbors have to say!
Delightful and the actress was so amazing!
Abby got a standing ovation! Truly, it is a must-see! If you like humor, there is a lot sprinkled in!
- Renee L, Front Porch Forum

An astonishing 85-minute performance by Abby Paige that never flags.
- Roberta Harold, facebook

Tremendous show. It's amusing, informative, personal and compelling.
GO SEE IT.
- Mark Roberts

So deep, provocative, funny, moving. Bravo!????????????
- Connie Krosney, facebook

Wonderful show! ????
- Sue Zeller, facebook

This is a memorable piece of art; highly recommend.
- Maggie Neale, facebook