And It's a Rave! "Loads of Fun" "Expertly directed"
October 11, 2016

Sunday October 9, 2016
article reprinted with permission
THEATER REVIEW
Can a dog be sued for alienation of affection?
By JIM LOWE STAFF WRITER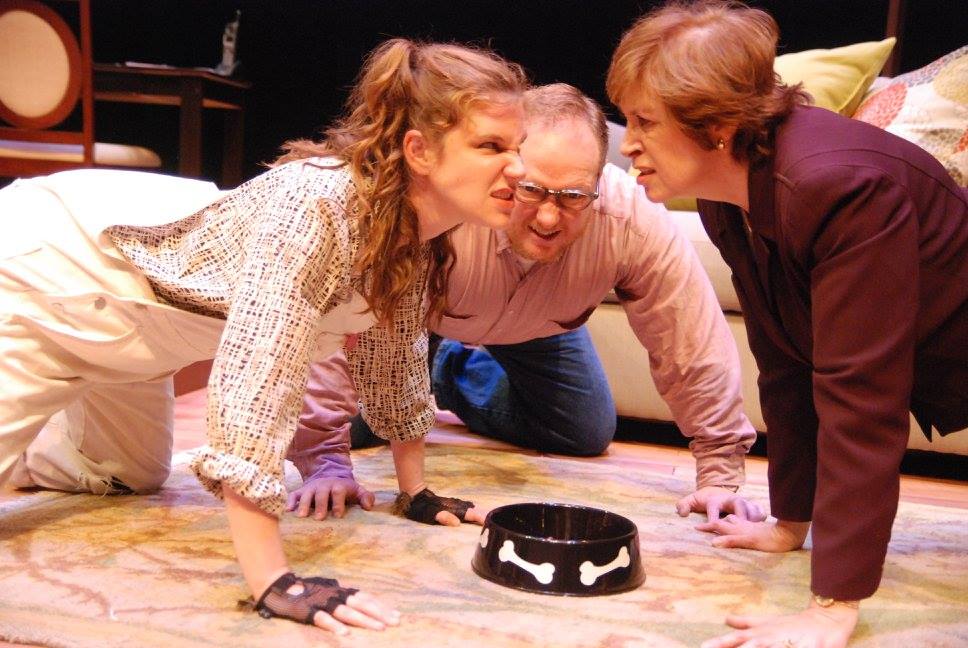 Menopause is the source of much humor, but "male menopause" can be downright dangerous. In A.R. Gurney's comedy "Sylvia," a middle-aged man's newfound attachment to a female dog nearly destroys his relationship with his wife — and himself.
And what makes it so terribly funny and touching is its plausibility, made clear in the delightful Lost Nation Theater production that opened Friday at City Hall Arts Center. Expertly directed, the professional performance wasn't played for comic shtick; rather the comedy was allowed to speak for itself — and the result was hilarious.
Greg and Kate have shipped their kids off to college and bought a New York City apartment so that they can begin enjoying an unencumbered life together. Kate has earned her master's degree and wants to teach Shakespeare to inner city youth. But Greg has been promoted to the level that he is miserable in his job.
The play opens with Greg returning to the apartment with a stray dog — played by a human — he has met in the park. According to a tag on her collar, her name is Sylvia. By the time Kate returns home, Sylvia has made herself at home. And Kate is furious.
What ensues is an epic battle for Greg's soul and it's not clear right up until the end who is going to win. The comic process involves encounters with a dog "expert" in the park, an aghast friend and a flaky marriage counselor. Perhaps funniest is Sylvia's first sexual encounter.
This is just empty-nest syndrome — but a hell of a lot more fun.
Directed by William Davis, director of Johnson State College's Dibden Center for the Arts, the Lost Nation production benefited from a subtle and nuanced relationship between Greg and Sylvia. But it was as an ensemble that the quartet of actors kept the audience laughing — with the occasional tear.
Paul Molnar created a sympathetic and dimensional Greg, losing touch with his old world as he became more and more obsessed with Sylvia. Courtney Wood, who just soloed in "The Syringa Tree," delivered a virtuoso comic performance as Sylvia, combining the frenetic physicality of a young dog with the roller-coaster emotions of a teenage girl.
Maura O'Brien certainly conquered the uphill battle of making the miserable Kate sympathetic — and very funny. Scott Renzoni employed his ample comic talents – without overdoing it — throughout, as the dog owner Tom, Kate's society friend Phillis, and the androgynous therapist Leslie.
The physical production was simple and attractive, with a comfortable suggested living room by Donna Stafford, effectively lit by John Devlin. A side stage was a little awkward, but there is no other obvious solution. It worked.
"Sylvia" certainly isn't Shakespeare — though the Bard is often quoted — but it was loads of fun.
LOST NATION THEATER
Lost Nation Theater presents "Sylvia," the A.R. Gurney comedy, Oct. 6-23 at City Hall Arts Center, 39 Main St. in Montpelier. Performances are at 7:30 p.m. Thursday-Saturday, 2 p.m. Sunday. Tickets are $25-$30, $20-$25 for seniors and students; call 802-229-0492, or go online to www.lostnationtheater.org  .