May 04, 2020

Lost Nation Theater Has So Many Hidden Heroes
As hard as it is for the actors (and some directors) amongst us to believe, some stars just don't want to be in the spotlight.
They prefer to go about their heroic work quietly, behind the scenes, without anyone knowing even - let alone making a fuss.
But we need to say Thank You - and so, like it or not, we are making a fuss.
However, we will avoid using their personal photos!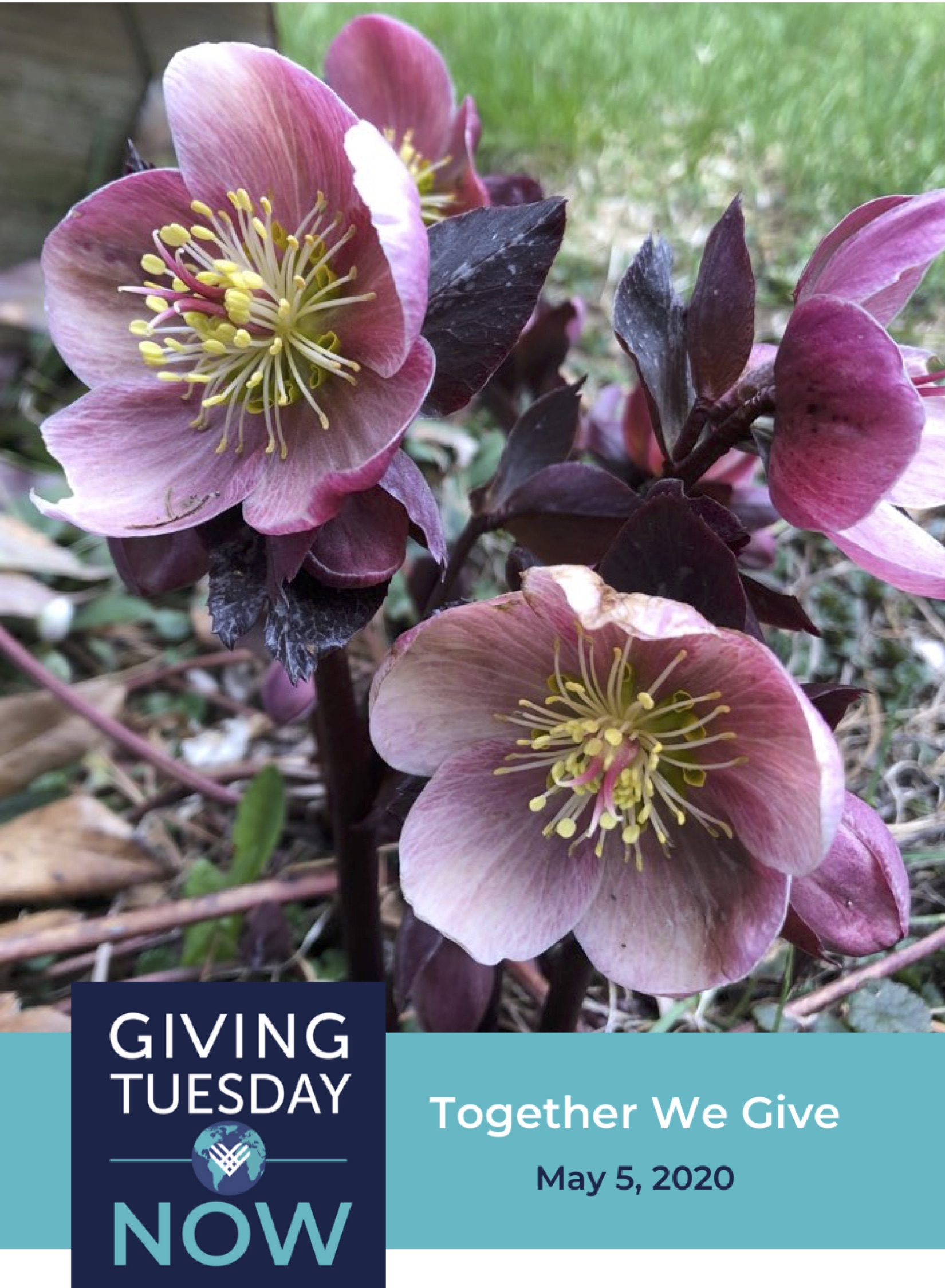 The gorgeous photo of these beautiful flowers was sent to LNT by one of those "shy" folk who Lost Nation Theater wants to celebrate during #GivingTuesdayNow
... So let's get the party started!

Chris Zahm & her husband Dr. Mike Zahm shared this photo from their garden yesterday.
They've been tending to LNT just as carefully for A Lot of years as donors, subscribers, and now Board Members!
LNT is so thankful for them - and all our Board Members for helping steer the organization, and keep us going with their "money-where-their-mouths-are" donations during this difficult time.

It humbles us to know our Board Members are involved in the community in lots of ways - from libraries, to city councils, health clinics, select-boards, rec programs, service clubs, sustainability, music groups & concert series, preservation (historical and environmental), coat drives, and tree boards.
We're proud to have such civic-minded people sustaining LNT with their vision, donations, and plain hard work.
(Plus uplifting photos of their gardens!)
So THANKS to our Current (would rather stay behind the scenes) Board: Laurie Callahan, Earl Fechter, Jessica Goodlin, Gary Haas, Carol Montgomery, Chris & Mike Zahm.
And Thanks to LNT's "emeritus" members & advisors (not exhaustive- just a more recent history):
Warren Kitzmiller, Dona Bate, Anthony Otis, Amy Willis, Emme Erdossy, Sue Zeller, Ronni Lopez, Carolyn Wesley, Rob Chapman, Aaron Retherford, Bronwyn Fryer, Dan B. Jones, Lynne Hansen, Lindsay Hill Kurrle, Cher Laston, Eric Michaels, Muffie Conlon, Andrea Stander, Betty T Lord, Linda Henzel, Lauren EA Aradi, George Hallsmith, Mich Kabay, Brooke Pearson, John Fricke, Robyn & Mitch, Jeanne Beckwith, Kimberly Ward, Al Kloeckner, Burton Dunning, Susan Plunkett-Dunning, Joan Black, Carol Martin,
and the list goes on.
A very special acknowledgement for those dear ones who've passed:
Alan Weiss, Ted Richards, Mary Shriver, Jan Armstrong, Jane Sakovitz Dale, Edsel & Jean Hughes, Bob Johnson, and Margot George.
And a Thank you to our Emergency Appeal Donors:
Christopher and Joan Keenan
In Memory of Ted Richards - Colleague, Friend and Champion of the Arts -Richard and Lynne Hansen
Donald & Allison Hooper
Pat and Charlie Keenan

Amy Willis & Scott Hess
Christina Castegren
Christine and Michael Zahm
Susan Trzepacz

Carol Anne Vassar MD
Dona Bate
Emme and Alan Erdossy
Jack & Laurie Callahan
Joanne Greenberg
John Capetta
Kenneth Hertz and Catherine Rader
Kim Bent and Kathleen Keenan
Maryanne Abad
Nancy Thomas and Dana Lawrence
Richard and Alice Angney
Richard and Sarah Brock
Sarah Seidman
Earl & Kathleen Fechter

Sherry and Robert Morgan
Candy and Jerry Diamond
Lori Stratton
Peter Hadcock
Rennie Poirier
Robert Bent
Anonymous
Bonbonfera Tim Keenan & Marcella Bondi
Tom and Charlotte Macleay
Virginia Milkey & Ed Paquin
Elaine Beal
Jeanne Cariati and Warren Kitzmiller
Margaret & Fredrick Rossi-Howard
Janice Gearhart
Seth and Rachel Chalmer
Katie & Randolph Back
Sandra and Rod Buck
Robert Nuner
Amy Davenport and John R Durrance
Anne McIntyre
Betsy Forrest
Bob Carmody & Mary Scripps
Bronwyn Fryer
Carol Montgomery
Chapin Kaynor
Charlotte and Ed Phillips
Chris & Susan Hennessey
Christopher Morris
David Tartter
Dona and Ed Koenemann
Donia Prince
Elizabeth Macfarlane
Eric Love
Harris Webster
Ilana Zablow Household
John & Shirley R. Bate
Laura Lyle & John Fisher
Louise and Raymond Menard
Michael & Sue Dellipriscoli
Muffie Conlon
Sandra Shenk and Al Boright
Susan DeColaines & Bill Swanson
Susan K Bauchner
Susan Murray
Therese Mageau & Peter Kelman
Tracy Titchner
Wiliam Pelton
Anthony Keller & Karen Petersen
Alexandra Shear
Anita Adams
Anne Unangst
Carmine Sargent
Carol & Bruce Wyatt
Carol Martin
Christine Terry
Cynthia Jackson
Elizabeth Templeton
Ginny McGrath
Irene Schaefer
Jeannette Stewart
Jerry Fry
Kathleen Manfre
Leeds Brewer
Linda Henzel
Lindsay Wade
Patrick and Patricia French
Paul Heller & Marianne Kotch
Peter Thoms and Abby Colihan
Robert William Wolff
Sarah Albert
Susan Ritz and Ethan Atkin
Virginia Humphreys
Vivian Ladd Tomasi
Wavell Cowan & Erline Marsh
Bess O'Brien & Jay Craven
Paul and Peggy Irons
Dot and Mark Perry
Bob and Joan Barrett
Rilla Murray & Peter Rousmaniere
Timothy Azarian and Wilaiwan Phonjan
Andrew London
Barbara Garton
Bradley Benedict
Christa Stook
Cindy Bullard
Denise Ricker
Ellen Cairns
Erik Nielsen and Jackie Smith-Nielsen
Gerrie Denison
Jan Tobias
Jeremy Seeger
Leeds Brewer
Liz Le Serviget
Margaret Sherman
O. Veronica Lopez
#lostnationtheater #lnt #grateful #neighborshelpingneighbors #givingtuesdaynow #giving #community #givingback #stayingconnected #makeadifference #support #supportingartists #supportlocal #supportsmallbusiness #supportnonprofits #supportyourneighbors #supportnearandfar #wellgetthroughthistogether #lifeduringcoronavirus