Eric Love "Comes Home" to LNT for Shakespeare's Will
August 24, 2019
Coming Home
Returning to Lost Nation Theater after too many years away
by Eric Love
If you will indulge me, let's travel back in time 10 years to 2009. I just graduated from The Hartt School with a BFA in Musical Theater and Lost Nation Theater hired me (after 3 years of auditioning for them at NETC's!) to perform in The Complete Works of William Shakespeare (Abridged). This was the first professional play of my entire career. Previous professional work included many musicals and even a ballet, but never a play. One top of that, it was a three-person play, a quick-change comedy, and I would get to play most of the girls. It was a dream come true! Performing a four week run of that show taught me so much and gave me the confidence to move to NYC to pursue acting full time.

The next season, Kim and Kathleen called up with a shocking offer, "We'd like you to star in Fully Committed." Wait, what? A one-man show with 40 characters? I'm only 22, You think I can do it? Are you sure?... Fully Committed was one of the hardest and most fulfilling theater experiences of my life. After that show, nothing seemed hard anymore. If I could do this, I could do anything. I returned to NYC and soon afterwards got my Equity Card in Peter and the Starcatcher at New York Theater Workshop.

photo by Robert Eddy; 39 Steps. directed by Kathleen Keenan. scenic design Clay Coyle;
costumes Charis Churchill; lighting Charlotte Seelig (who also designs Shakespeare's Will)
For the next four seasons, I was living and working in NYC but Lost Nation was my artistic home. Two months a year, Kim & Kathleen would invite me back to LNT to tackle the most remarkable shows. I specialized in quick-change comedies (The Complete History of America Abridged, The Mystery of Irma Vep, The 39 Steps) and epic Shakespeare productions (A Midsummer Night's Dream, Hamlet, Comedy of Errors). I also was in a magical production of Metamorphoses directed by Kim Bent that introduced me to using aerial silks on stage.
photo by Robert Eddy; 39 Steps. directed by Kim Bent. scenic design Clay Coyle;
costumes Cora Fauser; lighting Charlotte Seelig (who also designs Shakespeare's Will)
Skip ahead to 2015. After performing in nine shows over the past six years, Montpelier was a second home to me. I felt embraced by Lost Nation Theater as a company member. Supported. Appreciated. Loved. But after acting in so many huge shows, what was next? I'd been dreaming about an avant-garde production of Sarah Ruhl's Eurydice that I wanted to direct. I pitched the idea to Kim and Kathleen:


-Company members Kate Kenney and Christopher Scheer as the ill-fated lovers, Orpheus and Eurydice.

-Company member Bob Nuner as Eurydice's Father.

-Nine local girls as the eerie Greek Chorus of Stones.

-Aerial silks, masks, water, live cello, and a sweeping sound score.

-Oh yeah, and I would play the Lord of the Underworld.
Kim and Kathleen took a chance said yes, and for that I am eternally grateful. Like seven years earlier, when they gave me the opportunity to act in my first professional play, now they were giving me the opportunity to direct my first professional play.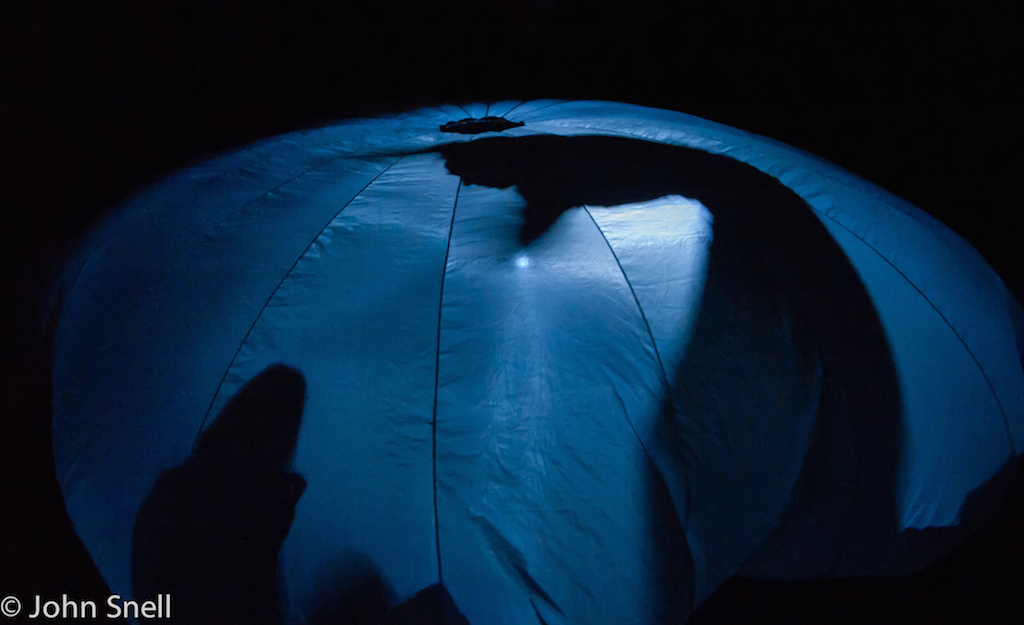 photo by John R Snell; Eurydice. directed by Eric Love.
scenic & lighting design by Claiborne H Coyle;
The experience of directing Eurydice at LNT changed the course of my life forever. Up to this point in my career I was exclusively focused on acting, but after Eurydice, a new dream emerged. I wanted to direct. I wanted to create magical worlds for audiences to escape to and for actors to live in. This new dream inspired me to accept the position of Director of Education at Northern Stage, a Lort-D Equity regional theater in White River Junction, Vermont. I would never have moved from Hell's Kitchen, Manhattan, to a one-block town in Vermont if I hadn't fallen in love with this beautiful state during my time with LNT.
Now it is 2019 and I am entering my 5th season as the Director of Education for Northern Stage. In that time I have directed over 30 productions with young actors, including our massive holiday musical Matilda that ran for 7 weeks and starred 30 local children alongside a professional cast. I have also gotten to act at Northern Stage, including another one-man show! Carol Dunne, the Artistic Director at Northern Stage, saw me in Fully Committed at LNT all those years ago. With that performance lasting in her memory, she asked me to perform Buyer & Cellar, an Off-Broadway hit that was perfect vehicle for me.
After four years away, I finally get to come back to Lost Nation Theater to direct Shakepeare's Will, a one-woman show about Anne Hathway, the wife of William Shakespeare. It's a perfect match. Now, I can share my knowledge of one-actor shows with the incredible Margo Whitcomb, who directed me as Puck in A Midsummer Night's Dream at LNT in 2011. Full circle. In so many ways,
Lost Nation Theater forged me into the artist I am today. Here is where I learned drama, comedy, Shakespeare, and where I got my first chance to soar as a director. I am grateful to come back to this community to share a magical piece of theater.
It's good to be home.