Audiences are Loving Around the World in 80 Days
July 12, 2017
All Photos on this page courtesy of John Snell
Lost Nation Theater's Latest Adventure is a Run-Away Train of Laughs, Romance, and Inspired Surprises!
Never was more fun had than attending or creating our current production: Around The World in 80 Days.
This Around the World in 80 Days adaptation by Mark Brown imagines Jules Verne's novel as a quick-change comedy.
LNT has embraced that idea to the max. The costumes change, the set changes, time changes and the actors change characters to cover the 50 roles, different continents, ships, trains, and elephants. (yes. elephants)
And it all happens right before your very eyes.
The show has just 5 actors, but also 6 run crew, and a 6-person design/directing team. We're calling our run team "the pit crew" because they really keep the show moving! One member logged her steps during the show to find she took over 5000 logging over 2.1 miles. Just to do all the costume-quick changes and scenic transitions she handles during the show.
Surprises about during the show. So get set for a wild ride!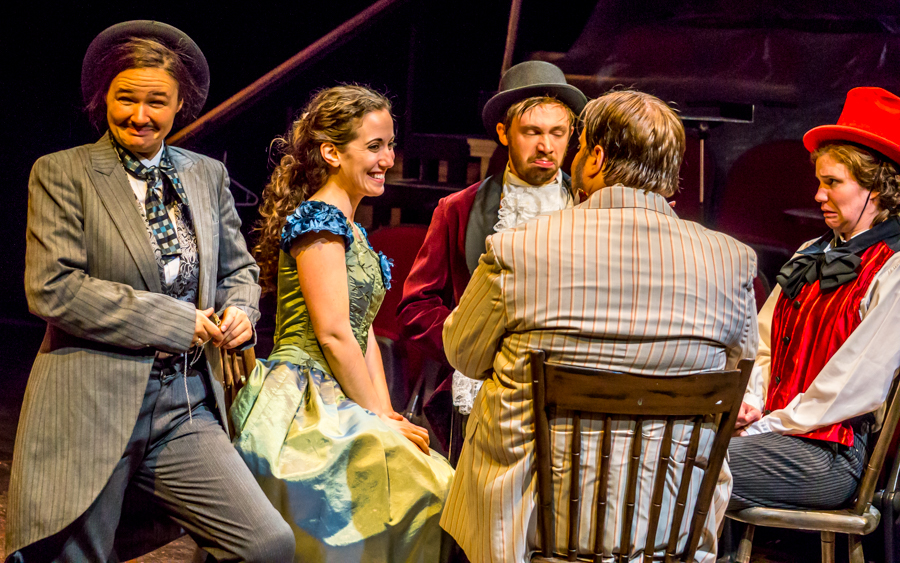 Here are some of the "reviews" by audience members (said to us, emailed to us, or posted on social media)
:
Don't waste a single day, regardless of if you have the time. THIS is worth going around the world for. - Ben Jeffries

So absurdly funny. Don't miss this zany, madcap performance. - Sandra Erickson

This was great last night! The whole family enjoyed every minute of it! - Kris Weir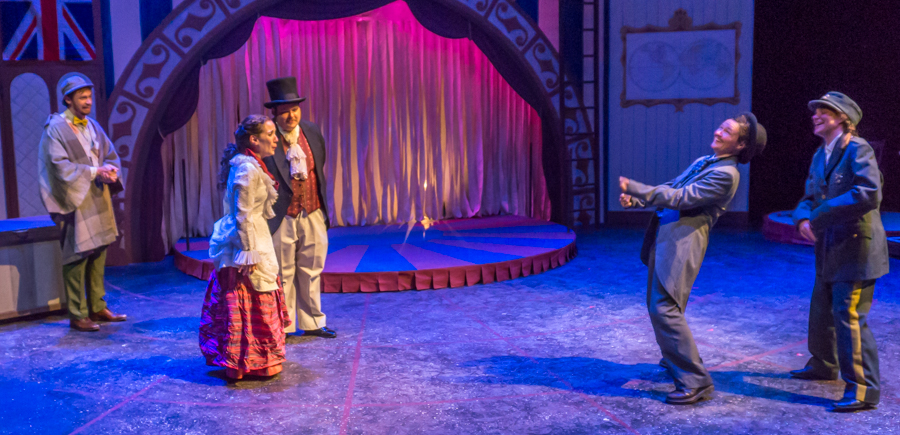 This is the best thing ever! - Carly Mitchell

Such a fun show! The entire cast is hysterical as they rip through dozens of characters and zip around the world...er, stage. Worth driving all the way from Maine for opening night!! - Charles Crane

"Every time I come to LNT I think - they can't possibly outdo the last show - and then they do!"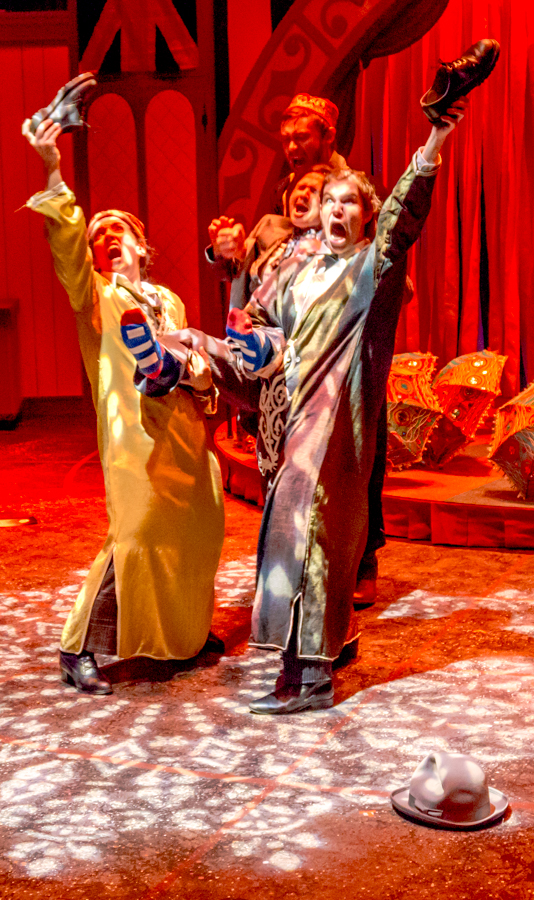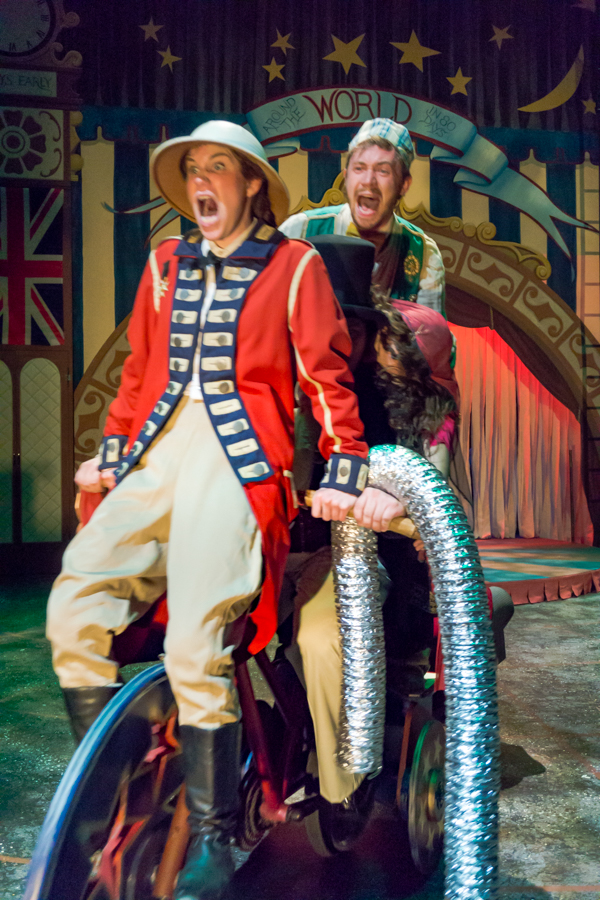 Priceless expressions from this seasoned but youthful cast ! Inventive staging and props! Fun and laughs all the way through! Lots of action! I thoroughly enjoyed this and think you will too! - Linda Henzel

I photographed the dress rehearsal of Lost Nation Theater's production of Around the World in 80 Days this week. Really a delightful, energetic and funny show. It is in full production now and I recommend it highly. In fact, there are enough jokes and fast-paced gags that you may need to see it twice to catch them all! Enjoy. - John Snel

Exceptional Production! - Sandy McCall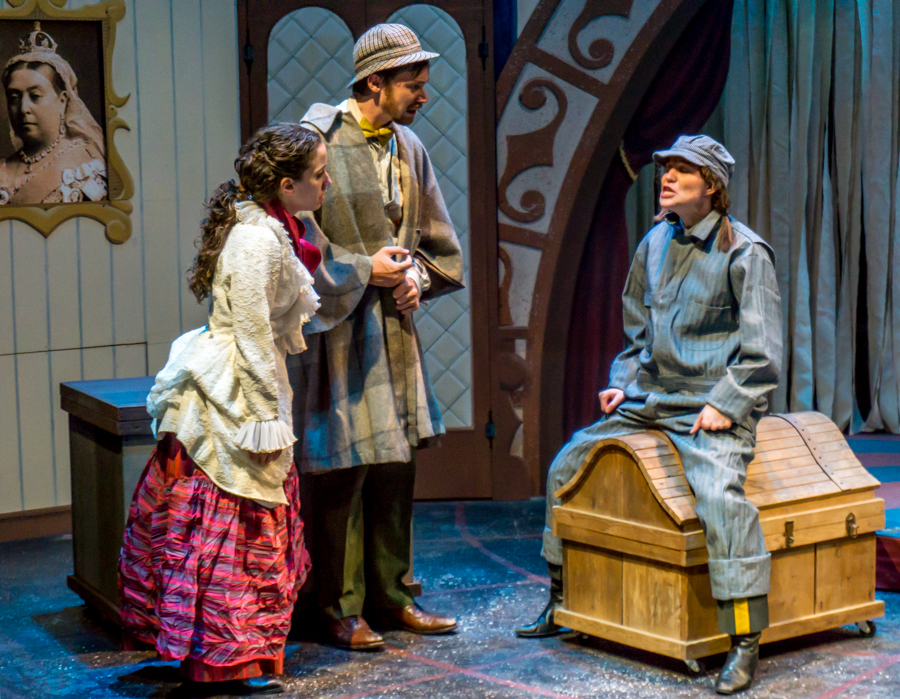 Don't Forget: Thursday July 13 is Post-Show Discussion Night. Stay afterwaards and chat with the actors, director and technical team.
"brilliant staging…zany comedy and a touch of romance"
- Jim Lowe, The Times Argus