Katharine Hepburn comes to Lost Nation Theater as interpreted by Janis Stevens
August 31, 2017
Lost Nation Theater presents Drama Desk Nominee Janis Stevens in "Kate - The Unexamined Life of Katharine Hepburn"
"If you play by the rules, you miss all the fun." That statement, plus "If you always do what interests you, at least one person is pleased," pretty much sum up legendary actor Katharine Hepburn's approach to life and to her career.
Now you can have the chance to spend some quality time with the maverick movie star as performed by award-winning actor Janis Stevens in KATE: The Unexamined Life of Katharine Hepburn by Rick Foster.
It's coming, Sept 7-17, at Lost Nation Theater, Montpelier City Hall Arts Center.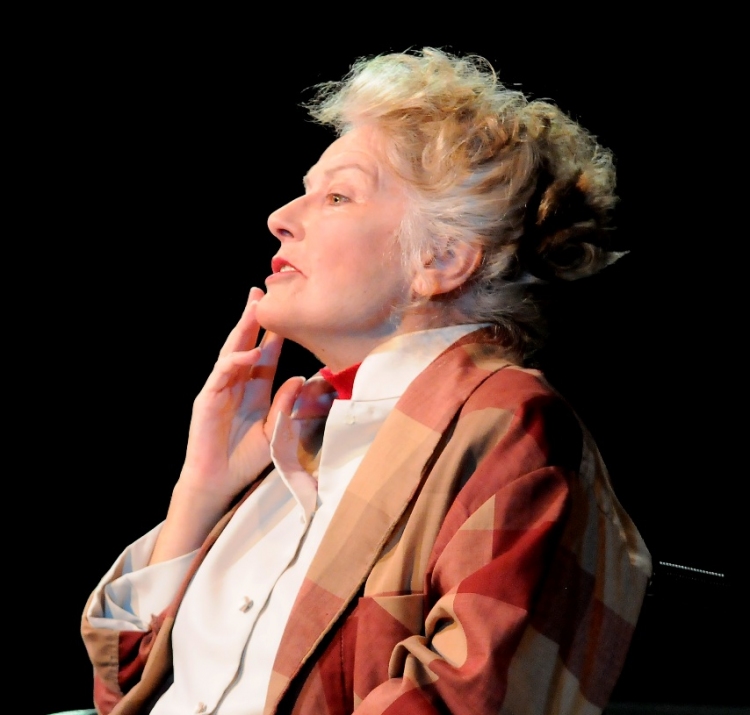 Katharine Hepburn, the preeminent actor – spirited, fierce, uncompromising – was an inspiration in film, on-stage, and off too. Born to a suffragette and a doctor in 1907, "Kate" became an unlikely Hollywood star in the 1930s with her beauty, wit, intelligence and the eccentric strength with which she imbued each character in a career that lasted more than six decades, earned her 12 Academy Award nominations and record-setting 4 Best Actress Oscar wins. Hepburn was legendary for wearing trousers and confounded studio executives by refusing to follow the unwritten rules for women stars. Once, the RKO costume department stole her slacks (because they were uncouth and boyish), Hepburn walked around the studio in her underwear, refusing to put her clothes on until she got her pants back. Her affectionate nickname became "The Great Kate."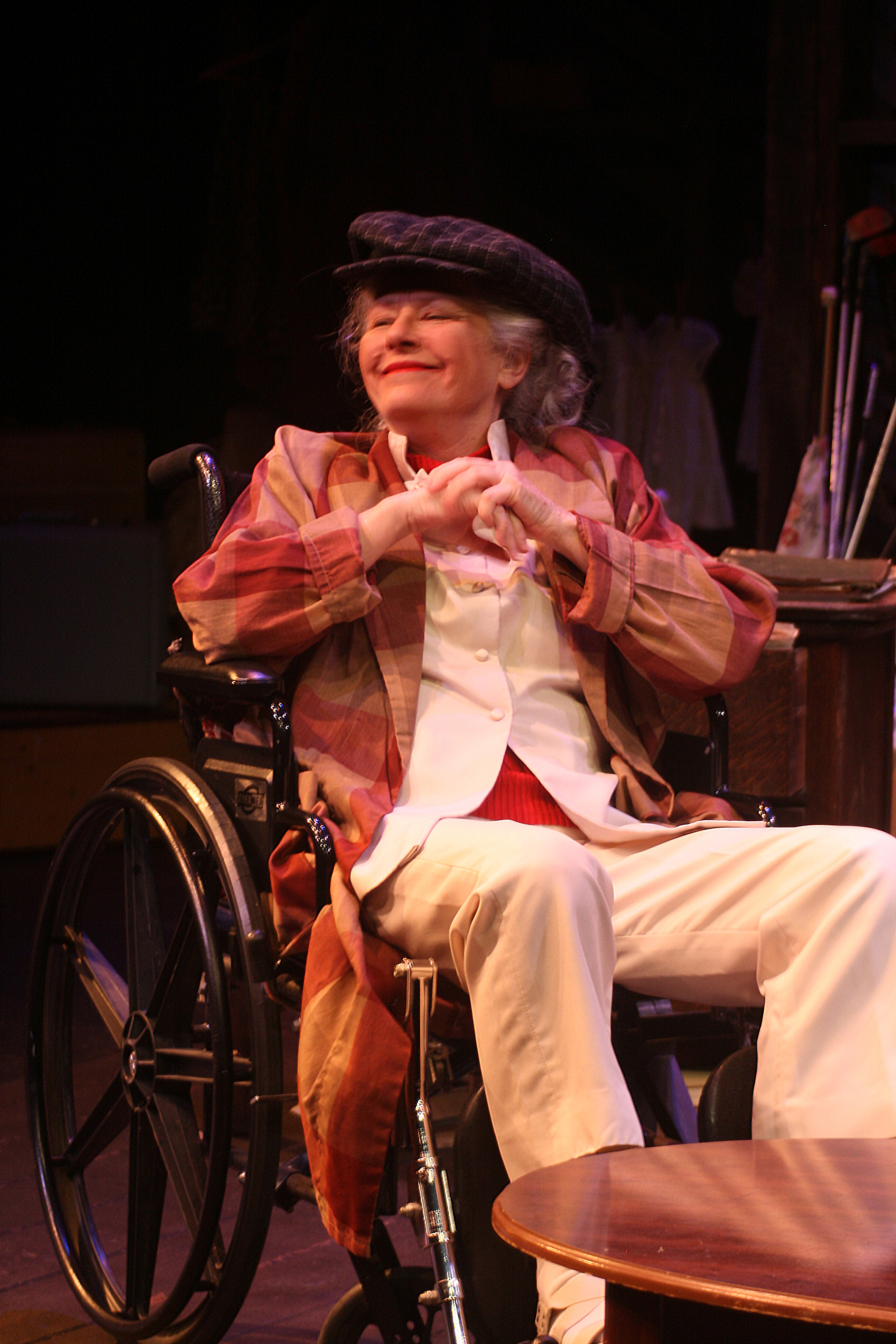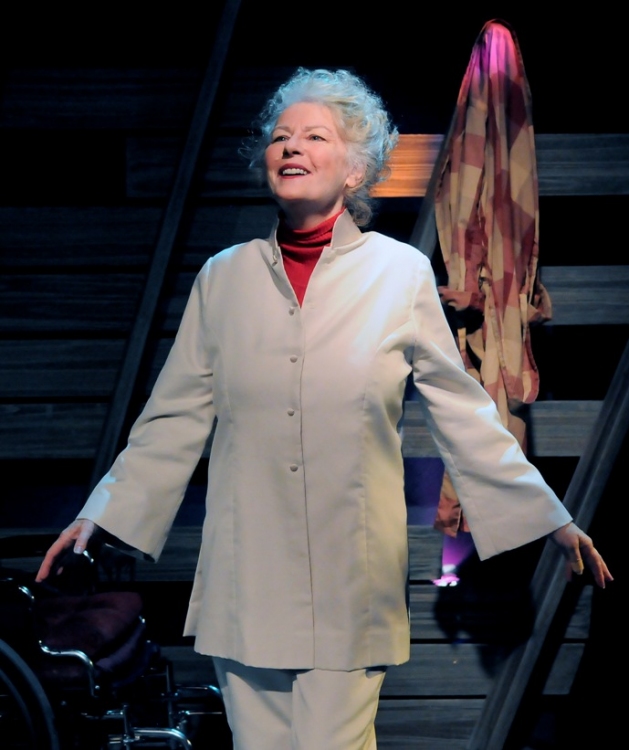 Unconventional, independent, and formidable Katharine Hepburn was raised by her parents to speak out, sharpen her mind, and engage the world fully. And she did. In doing so, she set Hollywood on its ear, and took the world by storm.
Lost Nation Theater is thrilled - in this year Hepburn would have been 100 and this 10th Anniversary year of its first collaboration with actor Janis Stevens, playwright Rick Foster and director Peter Sander - to bring these talented and creative artists back together for KATE-The Unexamined Life of Katharine Hepburn running for two weekends, Thursdays-Sundays, September 7–17. They are joined by costume designer Gail Russell and LNT's own Kim Bent creating an evocative scenic design and Thomas Gunn providing rich atmospheric lighting.
Critics rave "Janis Stevens doesn't just play Katharine Hepburn, she IS the indomitable star. "- Davis Enterprise
"When playwright Rick Foster and actress Janis Stevens team up, watch out. Better yet, just sit back and watch. And MARVEL." – Jim Carnes, Sacramento News & Review.
The play takes place on New Year's Eve 1999, and Hepburn reflects on her life and her loves as she ponders, at age 92, what the future holds. Filled with memories, stories from the set, and delving into uncharted emotional waters, audiences experience a side of Hepburn they have never seen.
Artistic Director Kim Allen Bent says: "Katharine Hepburn packed more accomplishments into her 96 years on this earth than anyone could imagine possible, but with his play Kate: The Unexamined Life, Rick Foster accomplishes the impossible. In a voice that is authentically, uncannily Hepburn's, he successfully distills this great actor's life-time of accumulated wisdom into a just under 90 minutes of great theater. LNT is extremely fortunate to be able to bring back the masterful Janis Stevens (Vivian, Glass Menagerie, The Year of Magical Thinking) to embody this amazing woman. Janis vividly brings Hepburn (and her secrets) to life. It's a transcendent tour-de-force performance."
Stevens, an international performing artist and director, was nominated for a Drama Desk Award for her portrayal of Vivien Leigh in Rick Foster's Vivien in 2006, and was recently awarded the ELLY for Lifetime Achievement in Theater.
Lost Nation Theater: winner "Best in New England"- Yankee Magazine, and named One of the Best Regional Theaters in America by NYC Drama League is Sponsored by Capitol Copy, City of Montpelier, Eternity, National Life Group, The Point-FM, The Times Argus, WDEV and The World, with media support from Seven Days.
See it. Show Duration: Thursdays­–Sundays, Sept 07 - Sept 17. Curtain is 7:30pm Thu-Sat; 2pm Sat & Sun.
Show Pricing: $10 - $30 Students & seniors (age 65): $5 Off. Youth (11 and under) always $10.
(6 & under admitted at discretion of theater, infants and toddlers not admitted. This show is rate PG-13)

Lost Nation Theater is wheelchair accessible, offers an assisted listening system, and large print programs.

Call! 802-229-0492 Or get tickets at the City Clerk's Office on the first floor of Montpelier City Hall.
You can also take a chance on getting tickets at the door. (1 hour before curtain).