Another Rave Review for Sense & Sensibility
October 16, 2017
reprinted with permission
PURE CREATIVE ENERGY!
Theater Review
Sense and Sensibility - Lost Nation Theater
Charlie McMeekin
THE HERALD
October 7, 2017
The creativity and freshness that have become hallmarks of Lost Nation Theater productions was put to the test with their current production of "Sense and Sensibility", an adaptation of Jane Austen's classic novel. The novel exceeds 400 pages in length, with a voluminous cast of characters, and is set 200 years ago in an English country town, and in London, in bedrooms, dining rooms, drawing rooms, gardens, on horseback, and in carriages. Sound daunting?
Director Kathleen Keenan, the director of this production, took only two weeks to guide her 12 actors, who are almost always on stage, to bring to life at least 25 named characters and numerous other extras while romping through 42 different "scenes", each requiring some measure of a set change. And she created a performance that lasts just over two hours. Breathtaking? You bet!
The result is pure energy and a delightful expectation that the audience join in on the fun. All night long you could hear the audience groan, laugh, sigh, and even cheer when recognizing yet another moment of transformation. The production is presented "in the round", with the audience seated on all four sides of the cast, so when there was a long scene at a dinner table, a way was found to have the entire dinner party slowly revolve. The cast goes on a carriage ride, as passengers, horses, even the carriage itself. It is fascinating just to watch each actor transform time and again, and to see the choreography of scene changes when all participate and you watch a ballet of wheeled objects fly up and down the aisles!
The story itself features two sisters who have contrasting approaches to life, except for a mutual desire to find love. Elinor is practical, and relies on common sense. Marianne responds much more at an emotional level, thus the sensibility. Annie Evans of Reno, Nevada, joins Lost Nation to bring us an Elinor who is rich and complex, and lovable. Marianne is portrayed by Katelyn Manfre, who returns to Lost Nation, having previously appeared in "The Crucible" and "Our Town". A graduate of NYU, she proved to be in command of her craft, filling the stage with focused energy and confidence.
Everyone else in the cast filled multiple roles, and did so with a commitment rarely seen in regional theater. Director Keenan notes that they are "some of the most willing, idea-rich actors with whom I've ever had the pleasure to work." It is worth the price of admission just to see the level of teamwork they have accomplished and their total devotion to making each moment alive and real, even down to the British accents they had to master, which proved to be a perfect touch.
One unique feature of Kate Hamill's adaptation of Austen's novel is the addition of "the gossips". Scarcely a moment exists when a private conversation is not heard and absorbed by some or all of the nine characters eavesdropping on the action. It creates a bridge between the social norms of the 1800's and today's Facebook society that is both comic and disturbing.
This production ends Lost Nation's 40th year of providing theater to the Green Mountains. It is a fitting end to four decades, as LNT has made it this far only through the sense founding directors Kathleen Keenan and Kim Bent have exercised in building a base of enthusiastic hometown support, and the sensibility both have shown in their unflagging devotion to presenting audiences with rich and important theater experiences. This is a production that provides a fun and challenging evening out, from a company who has helped create the fabric of arts in central Vermont. They deserve our support!
Sense and Sensibility runs through October 22, with performances Thursdays, Fridays, and Saturdays at 7:30, and Sunday matinees at 2:00.
Find out more about LNT's Sense & Sensibility
FOLKS - DON'T WORRY! CHARLIE MEANS THE FINAL PRODUCTION OF OUR 2017 SEASON - NOT THE END OF LNT AS AN INSTITUTION!! (ALTHOUGH WE ALWAYS NEED YOUR SUPPORT TO MAKE SURE THAT DOESN'T HAPPEN._. Stay tuned for announcement of our 2018 Season - which marks our 30th Season at Montpelier City Hall Arts Center!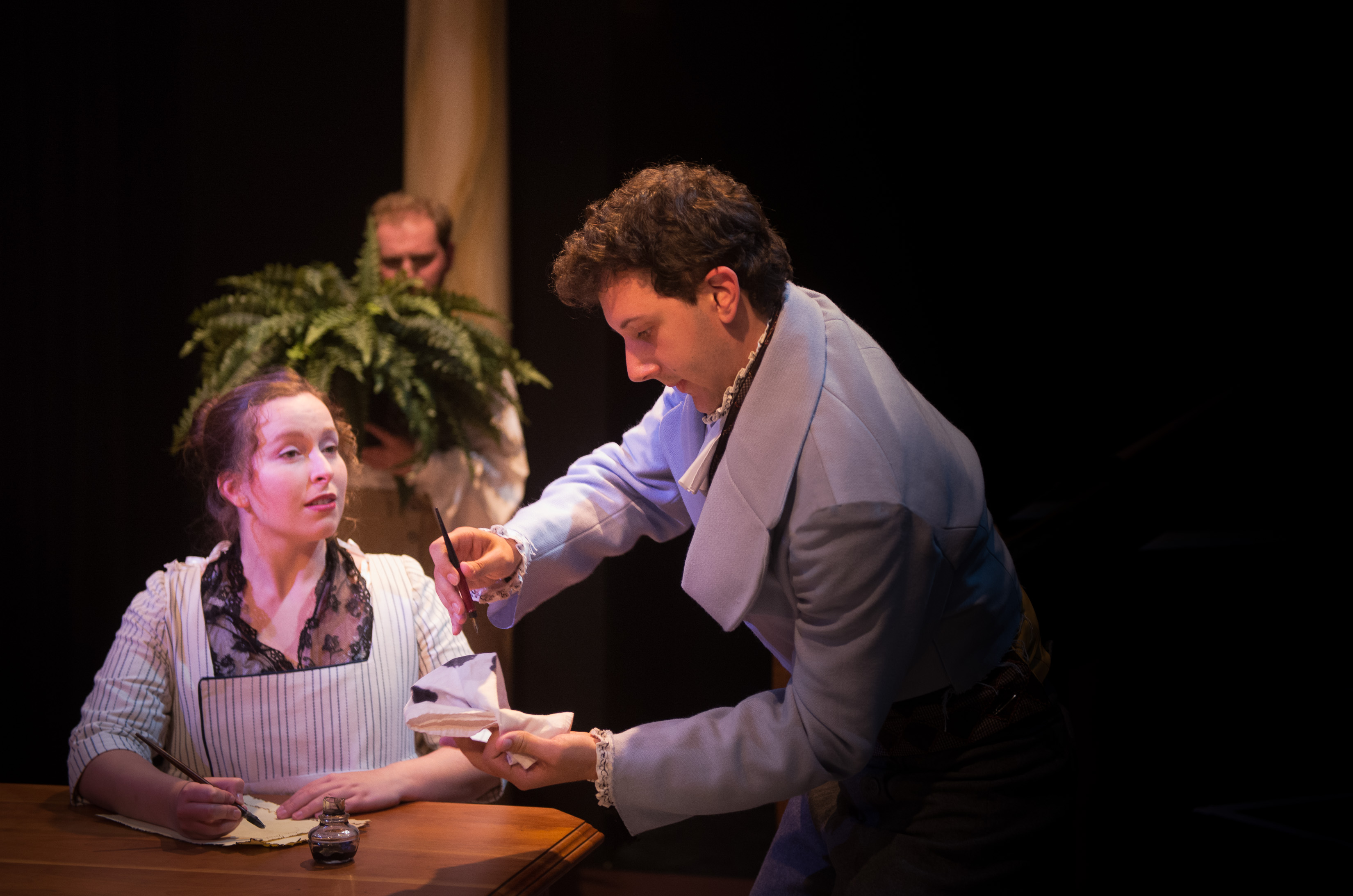 photo of LNT's Sense & Sensibility courtesy of Robert Eddy, First Light Studios
(Edward - Sam Balzac, and Elinor - Annie Evans - realize they have feelings for one another over an inkwell while writing letters in the library)