Traveling Around the World at Lost Nation Theater
July 05, 2017
Around the World in 80 Days is the Original "Amazing Race."
all photos on this page of LNT's production, courtesy of Robert Eddy, First Light Studios
"Our approach will assure some serious silliness, inventive hi-jinx, and bucket-loads of laughter, but all grounded in the truth, and the truthful absurdities of being human," stated director Kathleen Keenan about Lost Nation Theater's upcoming rendition of Around the World in 80 Days.

"To pump up the hilarity, we'll be using the best bits of Vaudeville, with a dash of Monty Python and a sprinkling of Saturday Night Live" she added.
The story is set in 1872, when the energy-dependent industrial age was hitting its stride. And in the spirit of the Industrial Revolution, it's a show that takes all sorts of gadgets & tricks, at a fast-pace, a little ragtag, but with just enough sophistication to make it all look planned! It's coming, July 6-23, at Lost Nation Theater, Montpelier City Hall Arts Center.

Around the World in 80 Days tackles a story that seems impossible to show on stage: stoic, fearless adventurer Phileas Fogg wagers his men's club that he can succeed at travelling the world in a mere 80 days. The Bet puts his fortune and life at risk along with his fearless sidekick (and servant) Passepartout. It's a story of a madcap adventure with zany means. Transportation around the globe – including sinking ships, stampeding elephants, runaway trains and ice sledges – adds to the hilarity of this show. Along the way, the duo encounters countless dangers, the blind pursuit of Fogg for a robbery he didn't (or did he?), commit, as well as a discovery of romance – which takes some of the starch out of stuffy Phileas.
Lost Nation Theater has assembled its "Quick Change Comedy" Dream Team of designers.
Joining Keenan are scenic designer Claiborne H Coyle (39 Steps, Eurydice, Richard III), costume creator Charis Churchill (39 Steps, Hound of the Baskervilles), lighting designer Janine Woods Thoma (Hound of the Baskervilles, Poe) sound designer Frank DiSalvo Jr (Treasure Island, Hound of the Baskervilles) and properties designer Laura Gist (Hound of the Baskervilles, Chitty Chitty Bang Bang). These folks are the definition of ingenuity.
And then there's the performers!
With only five actors, this show calls for a load of creativity and a light-speed, talented group of players. The cast will be using theatrical rules of the ridiculous to entertain as they transform in and out of characters that the fearless duo meets along the way. Cast in the show is Courtney Wood (most recently seen as Sylvia, the dog in Sylvia), Nick Wheeler (The Baker, Into the Woods), NYC's (and Actors' Equity member) Stephanie LaVardera, New England Youth Theatre's Doran Hamm, and California's Lara Foy.
Around the World in 80 Days had been called "Exceptionally Witty" by the Guardian, "Absolutely Goofy and Charming, with Action and Hilarity to Spare" by the Boston Globe, and "A Fizzy and Winning Lark" by the NY Times.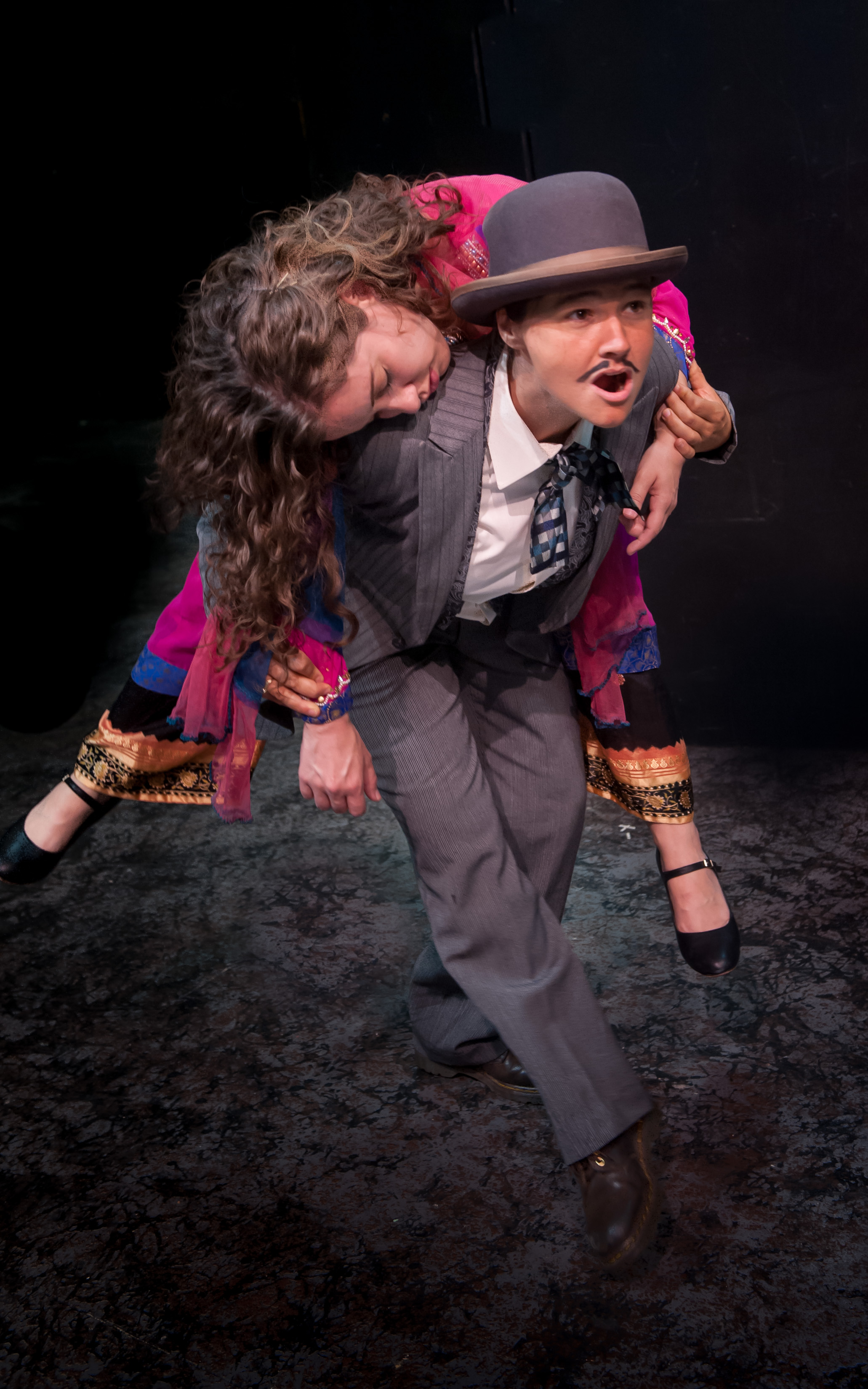 Director Kathleen Keenan has a stellar reputation in the Vermont and national theater communities for shows like 80 Days. She demonstrates her creativity and strength as a director in this show casting only 5 actors, yet 40 characters, 7 continents, 12 different transports, and a run crew of seven to pull it all off!
LNT's production of Jules Verne's Around the World in 80 Days, adapted by Mark Brown is riotous fun for all ages.

"Smart enough to make sophisticated adults laugh out loud. And yet shamelessly silly enough to keep children interested and entertained!" - NY Times
[Spoiler Alert – there is no balloon. That was invented by the movie. (It's not in the novel, so it's not in the play!)]
Lost Nation Theater: winner "Best in New England"- Yankee Magazine, and named One of the Best Regional Theaters in America by NYC Drama League is Sponsored by Capitol Copy, City of Montpelier, Eternity, National Life Group, The Point-FM, The Times Argus, WDEV and The World, with media support from Seven Days.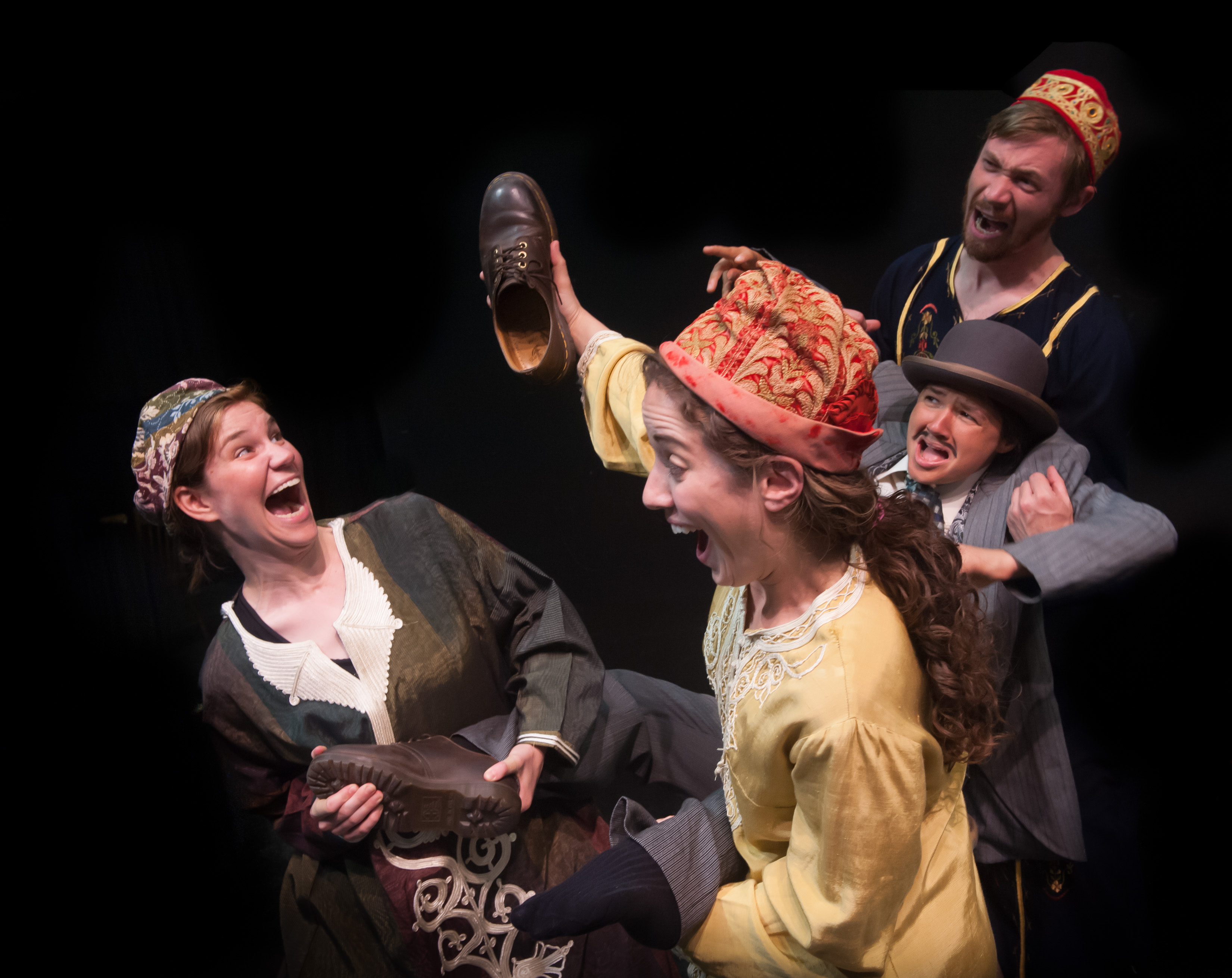 See it. Show Duration: Thursdays­–Sundays, July 06 - July 23. Curtain is 7:30pm Thu-Sat; 2pm Sun.
Show Pricing: $30 (Fridays & Saturdays) $25 (Thursdays & Sundays) Special $15 Ticket Thu July 6
Students & seniors (age 65): $5 Off. Youth (11 and under) always $10.
(6 & under admitted at discretion of theater, infants and toddlers not admitted.)
Lost Nation Theater is wheelchair accessible, offers an assisted listening system, and large print programs.
CLICK HERE for ticket. Or get tickets at the City Clerk's Office on the first floor of Montpelier City Hall. You can also take a chance on getting tickets at the door. (1 hour before curtain). For tickets & information: call 802-229-0492, or visit lostnationtheater.org.