the POE SPookTacuLar Halloween is Ba-ack!!
October 23, 2018
It's Ba-a-ck! "The Poe Spooktacular!"
Lost Nation Theater on Saturday, October 27!
Celebrate Halloween for Grown-Ups - with Lost Nation Theater's gleefully ghoulish Poe Spooktacular
It's the party of the year!
­­­­
Mystical Magic is the theme as Montpelier City Hall Arts Center is transformed into hauntingly hip atmospheric chamber to become the perfect Halloween party spot. What a party will ensue! It's Halloween for Grown-ups, that the whole family can enjoy.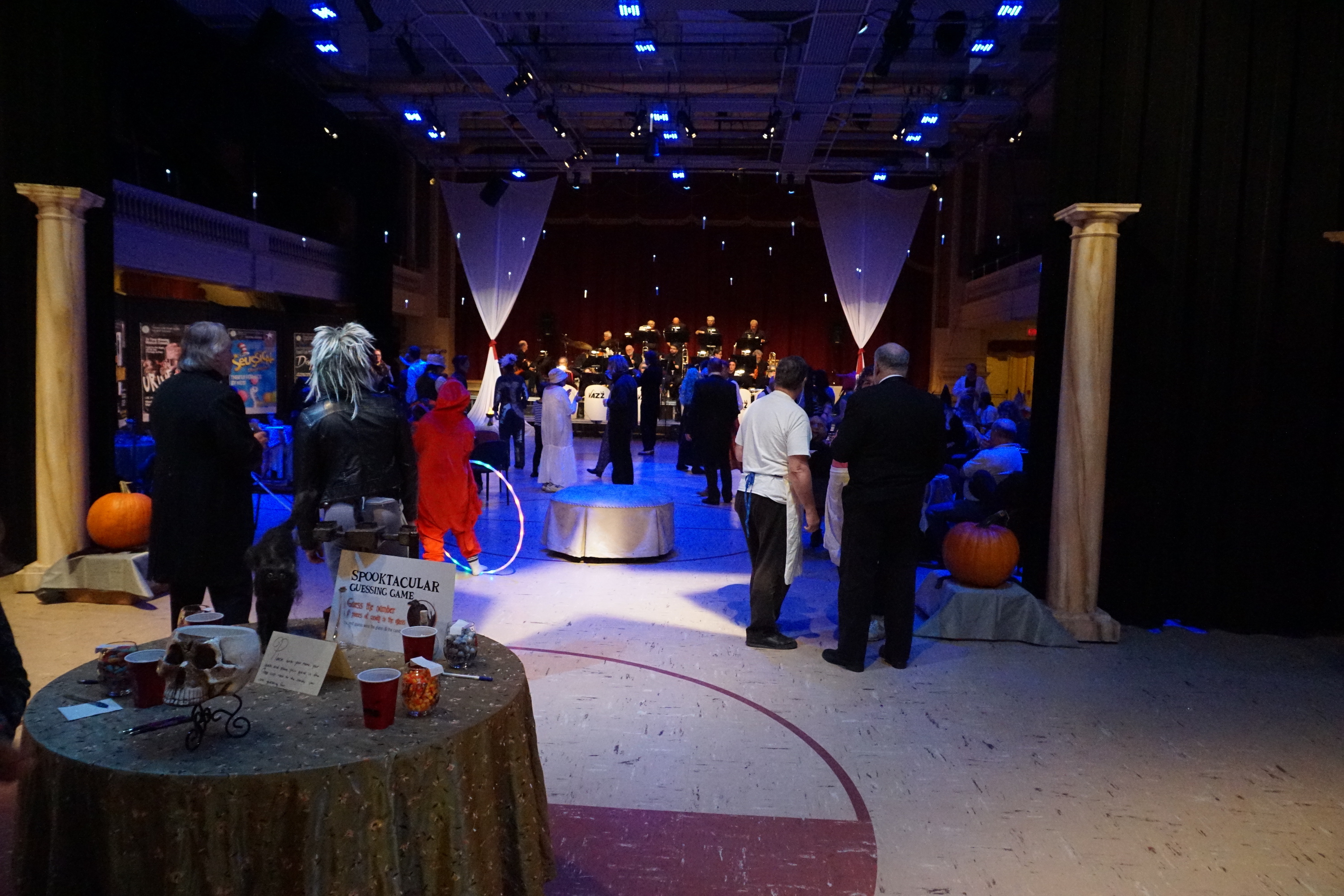 From the fevered imagination of Tim "UnHolyTavcar", LNT's annual Halloween Poe Spooktacular is a hauntingly good time! With inspiration from that Master of the Macabre and its own wizardry, LNT's Spooktacular offers a feast of sensations guaranteed to tingle the spine, tap the toes, and tickle the funny bone.
LNT's Wizards of the Weird create a night to remember! Fan favorite performers create a frighteningly fun fundraiser for the company and perfect party for the people! With haunted hosting by Mark S Roberts, there's the (petrifying) Poe Performance featuring "The Raven" and "Conquorer Worm" with Kim Allen Bent and a Dance Macabre with Taryn Noelle and Fiends. Then put your own dancing shoes on! Bop to the beat of 21-Piece Big Band, LC Jazz; enjoy devilish delectables; and a ridiculously fun costume contest!

It's all on Saturday October 27, at Montpelier City Hall Arts Center.
Great spirits and food abound! Delectables (like chocolate raspberry truffles, devils-food cookies) and Capitol Grounds Coffee are included with admission, providing the "juice" you'll need to dance till you drop to the spirited sounds of LC Jazz Band during the 2-Hour Dance Party.
8pm – Doors open! - Trick or Treat! – partake of the decadent desserts; goosebump-giving games, drink Poe'tions, dare to mingle & be merry.

8:30pm - Prepare to be scared by the Poe show.

9pm start Dancing the night away!

9:45pm - Costume Contest!

Come in costume and vie for prize! Get "Goth," get dressy, or come in your comfy clothes! Just be sure to wear your dancing shoes! City Hall Arts Center is going to Swing! During the Dance Party, you'll get a chance to catch your breath during our interactive Costume Contest with prizes for third, second and first place.
Got the boos? Dance your ghouls away at the POE Spooktacular!
Poe Spooktacular tickets are just $20 in advance and $25 day-of or at the door. Get tickets by phone: 229-0492; on-line: lostnationtheater.org; or at the Clerks Office on the first floor of City Hall. (Admission includes Show, Desserts, Dance. Additional donations for libations and raffles.)

Have a great time & support a great cause! Thanks for coffin up the dough to keep LNT out of the Poe' house!
Sponsors include Capitol Copy, Capitol Grounds, The City of Montpelier, National Life Group, WDEV-Radio Vermont, The Times Argus, and The Point-FM with support from The World, Capitol Stationers, and Vermont Mutual Insurance Company.
Be There or Be Scared!! Saturday October 27!
GET TICKETS