September 29, 2017
reprinted with permission
Thanks to The Times Argus, arts editor Jim Lowe, writer Mary Gow, and photographer Sandy Macy
'Sense and Sensibility': Jane Austen visits Lost Nation Theater

Mary Gow | September 28, 2017
By MARY GOW
ARTS CORRESPONDENT The Times Argus
What is a pair of well-born sisters to do when, thanks to the vagaries of primogeniture, their side of the family is cast into diminished means? Both of marriageable age, but with vastly different temperaments in affairs of the heart, the sisters live in a world of acute social strictures and expectations of propriety.
Beginning Thursday, Oct. 5, Elinor and Marianne Dashwood, their suitors, kin and other Regency England acquaintances come to the stage in Montpelier as Lost Nation Theater presents Jane Austen's "Sense and Sensibility." The production is the Vermont premiere of Kate Hamill's award-winning 2014 adaptation of Austen's classic and features a cast of 12 directed by LNT's producing artistic director, Kathleen Keenan.
"We are very excited by this adaptation," Keenan said. "That classic literature aspect is there, but it's very fun and fast. It's got that rich language. The characters are all very finely drawn. They're multifaceted and there's a deep understanding of human nature."
The adaptation of the novel, she noted, "has an LNT aesthetic. Its success is in the skill of the actors, their movement and voice to create the show."
"Sense and Sensibility" was Austen's first published novel. Published in 1811, its first edition of 750 copies sold out, earning acclaim and a good financial return, but it did not name Austen as author, instead noting that the novel was "Written by a Lady."
The two sisters of Austen's novel embody the contrasting qualities of the title. Elinor is the "Sense" of the pair, rational and clear headed. Marianne, romantic and emotional, is "Sensibility." In their social sphere, with its rarified pretenses but often venal behavior, the sisters' lives and marital options are subjects of scrutiny, heightened by their reduced circumstances.
Hamill's script, Keenan noted, "really contemporizes the story without modernizing it."
The adaptation creatively brings out the cultural context of the sisters' world along with the intricacies of various relationships.
"There's this wonderful invention of 'The Gossips.' It's like a Greek chorus of people commenting on the action, observing and propelling the story forward. In lieu of a narrator or lots of exposition, we have these gossip creatures who are very fun, very high energy, very over-the-top, who help us to tell the story," said Keenan.
In the novel, the Dashwoods are buffeted around England as they deal with their circumstances and options – from ancestral home to country cottage to London and more. LNT's staging takes them on their travels and also heightens their fishbowl-like scrutiny.
"Our lighting and set design support their sense of constraint and also people pushing against those constraints," said Kim Bent, LNT founder. "The LNT theater has been reconfigured to an in-the-round arrangement. They are always being watched, but there are escape routes from it."
For dashing around England and dealing with their tumult, Bent explained, "the very nature of this adaptation is that everything has to be mobile. Things are on casters and rollers, they fly in and fly out. Things shift beneath them."
LNT's cast comes from around Vermont and around the country. Katelyn Manfre, in LNT's "The Crucible" and "Our Town," returns from Washington D.C. to play Marianne. Annie Evans comes from Nevada, making her LNT debut as Elinor.
"Regardless of your interest level in Jane Austin, this show is a lot of fun," said Manfre. "It moves, it is funny and active, and it is a very exciting theatrical experience. I think it's not just coming to see a classic. It feels very new and very contemporary."
"People of all ages can enjoy this. You get to see a lot of family dynamics. You can root for the biggest sister, the middle child, the youngest child," added Evans. "I think even younger teens will find things they really enjoy in it."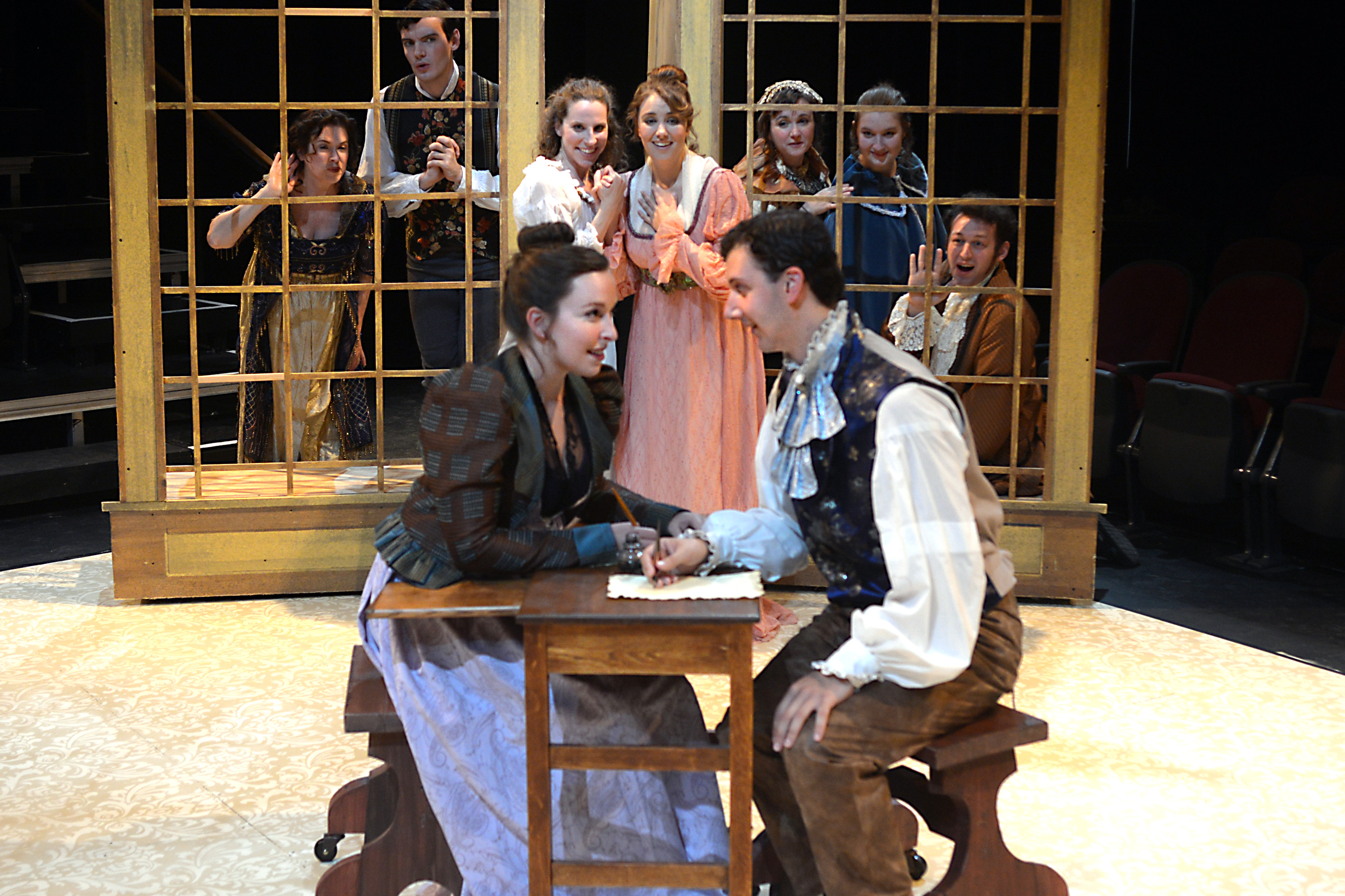 photos on this page courtesy of Sandy Macy