Vermont Stars Come Out for Lost Nation Theater Thu Nov 17 in a Mega Concert for LNT!
November 04, 2016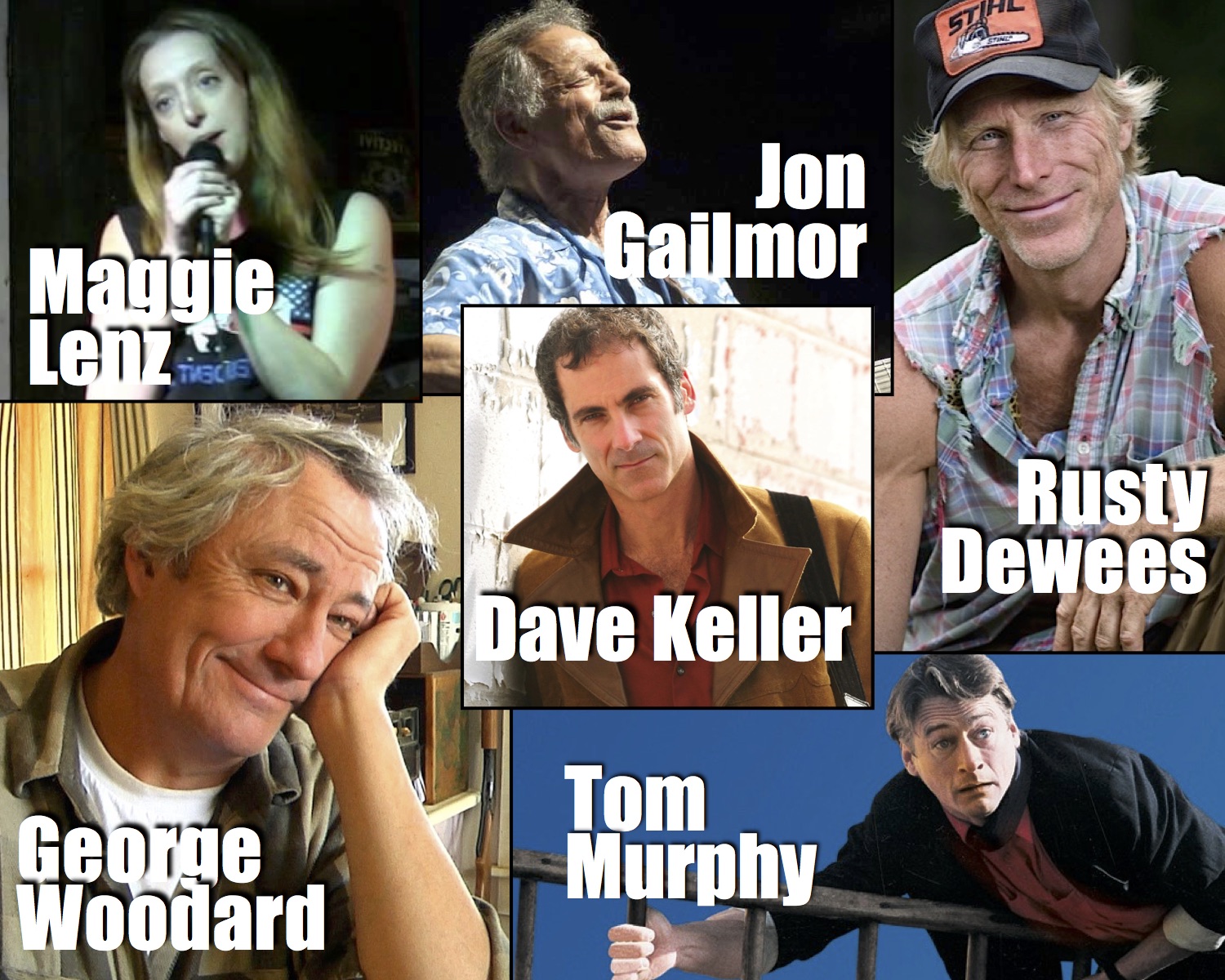 Vermont Stars Come out for Lost Nation Theater in "LNT-Aid" – a lallapalooza of a concert on Thursday, November 17 at 7:30pm
"Come on down folks, it's gonna be a great time!" says George Woodard – one of the Vermont All-Star performers who are banding together on Thursday November 17 for LNT-Aid: a benefit concert for Lost Nation Theater.
A mega concert with mega-talented, fun artists doing their remarkable respective things to raise much-needed funds for Lost Nation Theater, LNT-Aid means great tunes, great laughs, and great storytelling! All for a great cause. GET TICKETS
In alphabetical order, LNT-Aid 2016 mixes "veteran & first-time" stars in the line-up.

the inimitable Rusty DeWees,
singer-songwriter Jon Gailmor,
bluesman Dave Keller,
stand-up comic Maggie Lenz,
physical comedian Tom Murphy,
and singing raconteur George Woodard,
Soundman Bennett Shapiro of MadTech Sound provides the audio engineering. Tom Moog of Sweet Melissa's supplies the cash bar.
LNT Aid is the brainchild of Rusty DeWees, Rob Chapman and Amy Willis. 2014's inaugural benefit concert was such a smash – and since LNT is again in serious need of cold, hard cash (to pay for improvements made to its home in City Hall, and to make sure the company survives the Fall), – LNT-Aid returns in 2016.
This is great news for LNT AND all the folks enthralled by the inaugural magical event. (LNT-Aid attendees sent more notes about the concert than any other event in the company's history. These notes raved not just about the great concert, but expressed awe & delight in the spirit & joy in the sold-out hall!)
All the performers and Mad Tech Sound are again 100% donating their time and talents. "It's beyond heartwarming and inspiring that each one of these amazing artists said yes! We're so grateful." offers LNT producing artistic director Kathleen Keenan. Founding artistic director Kim Bent who put together the line-up adds "It's another miracle they were all available on the same night. I was humbled that everyone I asked readily and enthusiastically agreed."
Singer-Songwriter Jon Gailmor (winner of 2015 Governor's Award) explains:
"It's an honor to be a part of this celebration for Lost Nation Theater, which in a profound way embodies Vermont for me—immensely talented artists dedicated to their craft and to their state, and deeply committed to entertaining, touching and making a difference in the lives of their audiences, to whom they are indescribably grateful. LNT welcomes us in with their warmth and stunning prowess. It behooves us to reciprocate with our support."
Rusty DeWees, who's known Kim Bent since they both auditioned for a Vermont Rep production of True West asserts
"Known Lost Nation Theater's Kim and Kathleen since 87… Long time to know someone. Long time to operate a business. A lifetime if the business is Show. To know LNT produces the quantity with the quality of theatre they do, still, is to know Kim, Kathleen, and LNT are rare as miracles."
Come be part of this miracle concert: LNT-Aid! In addition to performing, Rusty will also be putting on his Live Auctioneer show, offering a few prize items (get-aways, ski-passes etc.) to raise even more money for LNT. Who knows what unscripted things you might experience thanks to Jon, Dave, Murph, George & Rusty– and Bennett of Mad Tech Sound! All hosted by LNT Veteran actor Mark Roberts (Judevine, plus many Shakespeares & comedies!)
LNT-Aid! See it! Thursday, November 17 at 7:30pm. All tickets are $25.
For tickets & information: call 802-229-0492, or Click Here
You can also purchase tickets at the Montpelier City Clerks Office (1st floor City Hall) or at the door (as available).
City Hall Arts Center (39 Main Street, Montpelier) is wheel chair accessible. LNT offers assisted listening and large print programs. Service dogs always welcome. Inform the box office of any special needs when purchasing tickets.
Lost Nation Theater, winner of Yankee Magazine's "Best of New England" Award, and named "One of the Best Regional Theaters in America" by the New York City Drama League is underwritten by Capitol Copy, The City of Montpelier, National Life Group, The Times Argus, WDEV, and The Point! With additional support from Vermont Mutual Insurance, Capitol Grounds, Capitol Stationers, Eternity Web, and The World.