Get the Gossip on Sense & Sensibility
September 25, 2017
Writing & Letters, Tea & Regency England,
Jane Austen, Romance, & Wild Comedy
Contemporary Vermont
what do they have in common???
Jane Austen's Sense & Sensibility Effervescently On Stage in Vermont Premiere of Kate Hamill's Inventive Adaptation. October 5-22.
"Austen's women are strong and wild, yet shackled by society's requirements of propriety. In today's world, so many of us are attempting to save face by pretending not to care." says actor Annie Evans, who plays Elinor in Sense & Sensibility. "Jane Austen doesn't let anyone, actor or audience member, get away with that. That's what really excites me about working on this show at Lost Nation Theater!"
One of Jane Austen's most beloved works, Sense & Sensibility is set in England's "Regency" era and tells the story of the two oldest Dashwood, each representing the polarity alluded to in the title, the practical Elinor and the emotional Marianne. Kate Hamill's new adaptation has been hailed as "Inventive, Faithful, Clever and Hilarious" by Theatre Scene, and now it's Vermont premier is being staged by Lost Nation Theater, "in the round" at Montpelier City Hall, October 5-22.
When reputation is everything, how do you follow your heart?
The Cast of LNT's Sense & Sensibility. All Photos on page by Robert Eddy, First LIght Studios
That's the question asked in Sense & Sensibility. The play examines our reactions, both reasonable and ridiculous, to societal pressures. Kate Hamill's ebullient adaptation of Jane Austen's classic novel follows the fortunes - and Misfortunes of the Dashwood sisters after their father's sudden death leaves them financially destitute and socially vulnerable. One of Hamill's most ingenious effects is to invent a veritable "Greek Chorus" of "Gossips", which ingeniously augments the story's humor and emotional depth, and at the same time gives it a creative physicality and a bold theatricality.
LNT Producing Artistic Director Kathleen Keenan, whose innovative staging of Around the World in 80 Days earlier this summer had audiences howling, will be directing the production, with an eye on buoyancy and romance.
Keenan says "One of the things I enjoy most about this adaption is the light is shines on the art of the actor. Actors' multi-faceted skills and invention, will propel and tell the story."
To perform this demanding show, Lost Nation Theater brings together another strong ensemble of 12 actor-dancers from across Vermont and the country. Lost Nation Theater is delighted to have DC's Katelyn Manfre (The Crucible, Our Town) return to play Marianne. Actors' Equity member (and Vermonter) Eve Passeltiner (Ransom, Crucible) takes on Mrs. Jennings while Sebastian Ryder (Coupla White Chicks, World Goes 'Round) is Mrs. Dashwood. Amanda Menard plays youngest daughter Margaret. Joining them and LNT for the 1st time are Leon Axt (Peterborough Players), Sam Balzac (NYC) Mariana Considine (VT), Michael Dewar (NYC), Laura Michele Erle (NYC), Annie Evans (Reno), Erin Galligan-Baldwin (Montpelier) and Brett Lawlor (Peterborough).
Creating the environment for this innovative play: Scenic designer and LNT Founder Kim Bent; Rebecca Stewart of Pins & Needles Garment Co creates costumes. Taryn Noelle is Movement Coach, Tim Tavcaris Music Designer and Properties are by Laura Gist. Lighting Designer David Schraffenberger offers, "Kate Hamill's Sense & Sensibility is a study in creative staging that can only be captured in a live performance. Nothing is static. This is a very interesting challenge. I'm thrilled to once again be part of the LNT production team after an entirely-too-long hiatus. It is truly a gift."
Critics on Hamill's Sense & Sensibility: "Full of Galloping Comic Vitality" - Wall Street Journal; "An Unconditional Delight!" - NY Times; "Perhaps the greatest stage adaptation of this novel in history." Huffington Post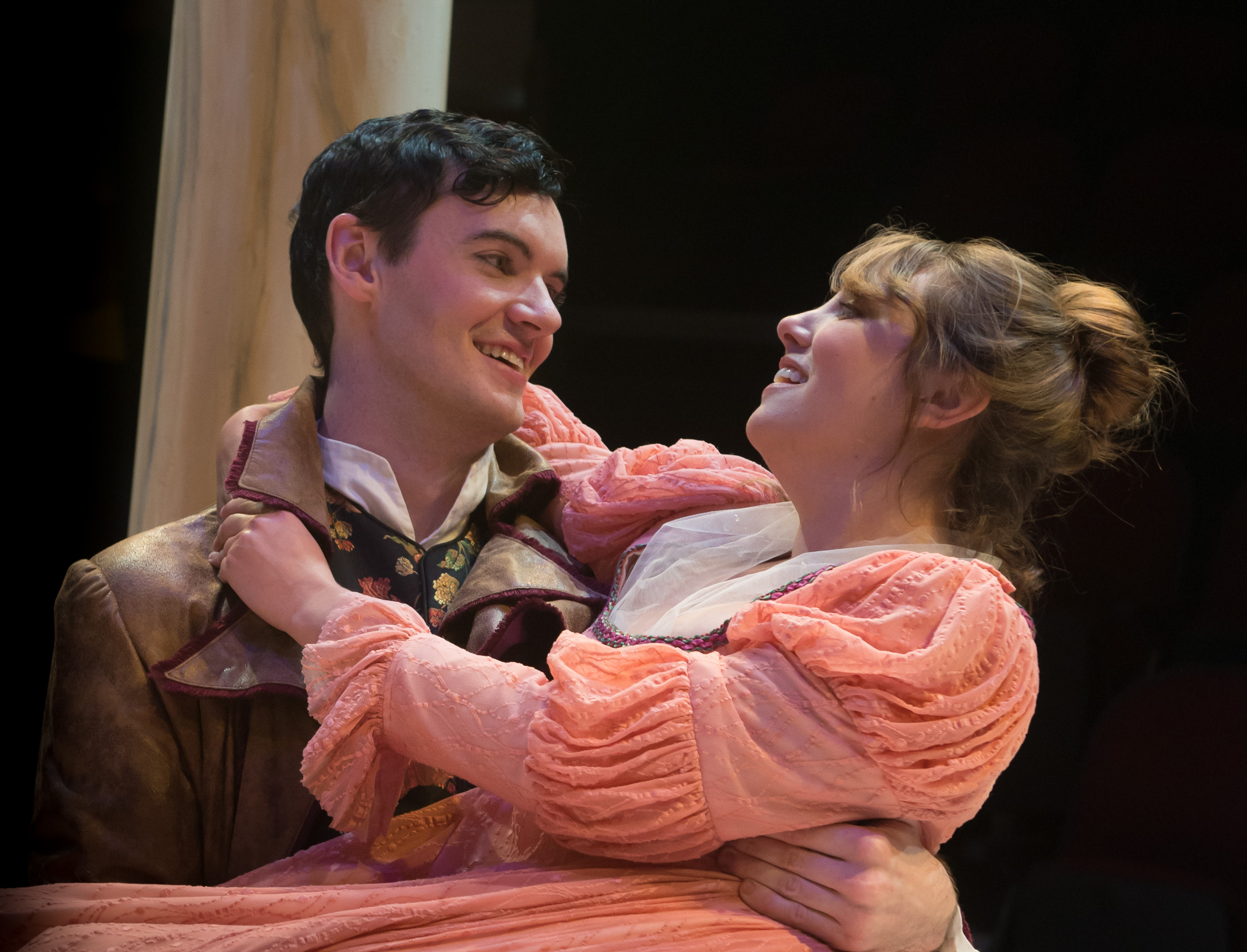 Lost Nation Theater: winner "Best in New England"- Yankee Magazine, and named One of the Best Regional Theaters in America by NYC Drama League, is Sponsored by Capitol Copy, City of Montpelier, Eternity, National Life Group, The Point-FM, The Times Argus, WDEV and The World, with media support from Seven Days.
See it. Show Duration: Thursdays­–Sundays, October 05 - October 22. Curtain is 7:30pm Thu-Sat; 2pm Sun.
Show Pricing: $10 - $30 Students & seniors (age 65): $5 Off. Youth (11 and under) always $10.
(6 & under admitted at discretion of theater, infants and toddlers not admitted.)
On Display in the Lobby Gallery during the run: Susan Reid, "Needlework"
GET TICKETS HERE Go to Info Page
Lost Nation Theater is wheelchair accessible, offers an assisted listening system, and large print programs.