Fun & Funny Videos from the Cast of Silent Sky
April 12, 2018
The Silent Sky Ensemble Has a Little Publicity Fun!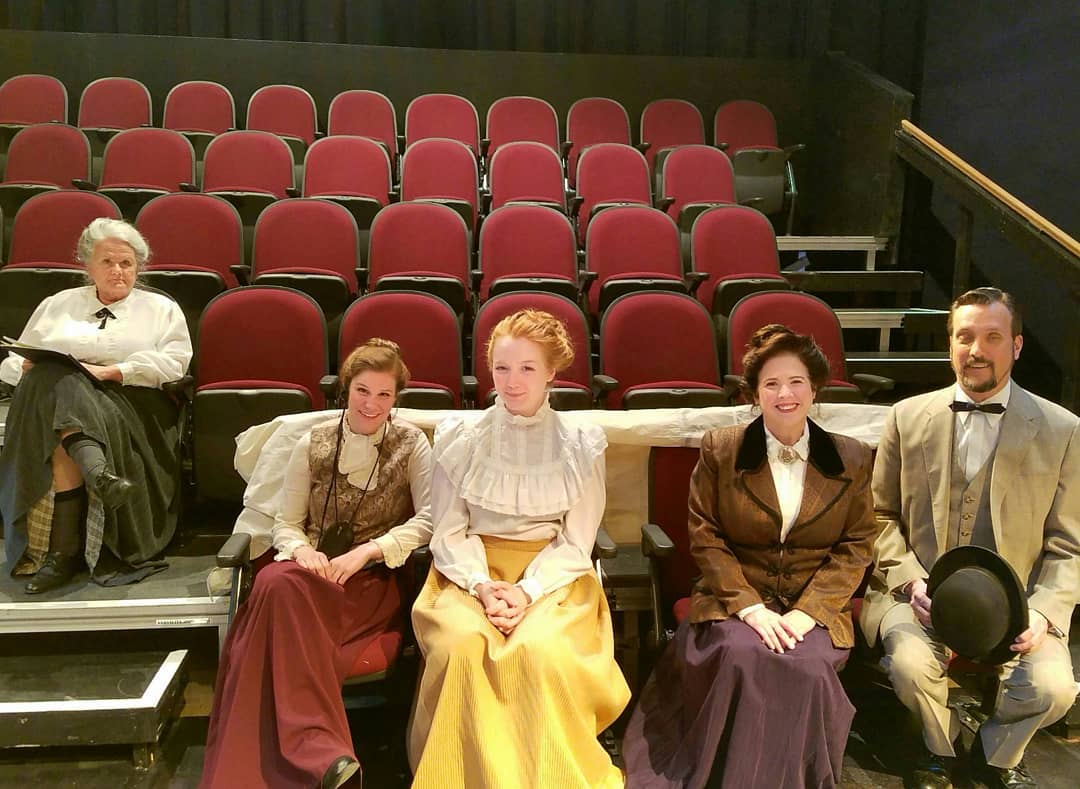 "#lookatthosefaces But Why can't I take a non-blurry #picture (sigh) Even with such great subjects! Isn't our #cast of Silent Sky stellar? Caught this photo as they waited for #todays photo shoot to start! Performances start Apr 19! #lostnationtheater #silentsky — with Emme Erdossy, Courtney Wood, Lindsey Maria Elizabeth Newton, Eve Passeltiner and G Richard Ames.
- Artistic Director Kathleen Keenan bemoans her photography skills!
Thanks to costume designer Charis Churchill for making everyone look so pretty!
(L-R): Emme Erdossy as Williamina Fleming; Courtney Wood as Henrietta Leavitt; Lindsey Newton as Margaret Leavitt, Eve Passeltiner as Annie Jump Cannon; G. Richard Ames as Peter Shaw

Are You Seeing Stars?
We are looking to the stars for inspiration for all the designs for the show. (Scenic Designer John Paul Devlin's in process orbital and nebulau-filled floor is on full display in this photo.)

But what's happening is #Focus! Lighting Designer David Schraffenberger got busy this morning with the help of master electrician Thomas Gunn to fine tune the lights for Theater's SILENT SKY - a gorgeous play by Lauren Gunderson. Preview is officially one-week from Today!!

Actor G Richard 'Rick' Ames snuck away from rehearsal the other night to whisper about his part in SILENT SKY by Lauren Gunderson, playing at Lost Nation Theater Apr 19–May 6. He says he's whispering because rehearsal is still going on. Do we believe him?

(Artistic Director Kathleen Keenan couldn't resist making this over-the-top trailer from Courtney's Research Trip!)


Actor Courtney Wood who plays Astronomer Henrietta Leavitt in Lost Theater's SILENT SKY by Lauren Gunderson (April 19-May 6, 2018) shares some of her excitement about her research field trip to the Harvard Observatory to prepare for her role.

Master Electrician Thomas Gunn shines a little light on the illuminating work he's doing for Lighting Designer David Schraffenberger for Silent Sky!
Thomas' performance side let's loose a little...