Aslan Kite Raffle Supports Youth Scholarships
February 28, 2018
Artist Jim Thompson has donated specially inspired hand-painted Aslan Kite to LNT to help support our Youth Scholarship Fund
Jim Thompson, artist, kite-maker, musician, retired educator, and parent of former Lost Nation Theater student and intern, had his ear to the ground in late January.
He saw that we were focusing on CS Lewis' Narnia for our Winter Break Youth Theater Camp, and he had an inspiration!
Jim has been making quite a name and career for himself making kites with hand-painted images. Most of those gorgeous images are of animals (tigers, beavers) or the solar system (suns, moons).
Check out his work: http://www.kitesbyjim.com/
A Eureka moment was sparked. To help support Lost Nation Theater support students, and in honor of his own daughter Ruthann - who spent much (if not nearly all) of her life at the theater with us circa 2000 and who is now working in theater & film in LA - Jim decided he would create an Aslan Kite for which Lost Nation could sell raffles to raise money for scholarships to our youth theater programs. (LNT works very hard to ensure that no student is turned away due to lack of financial resources.)
And now it's your turn to help!
Raffles for this one-of-a-kind-kite (valued at $250) are just $5 each or three for $10.
All proceeds go to support scholarships.
The Drawing will take place after the final performance of Narnia: Chronicle of the Dawn Treader on Sat March 3 at 11am.
You Don't need to be present to win.
Call the theater (802-229-0492), visit the city clerks' office on the first floor of city hall, or get your raffle at the show
(find out about the show here: http://lostnationtheater.org/narnia-performance.html)
We hope you'll consider taking a chance or 3 or 6 for this beautiful kite and support youth from across Vermont who want to work and study with Lost Nation Theater!
just take a look at it: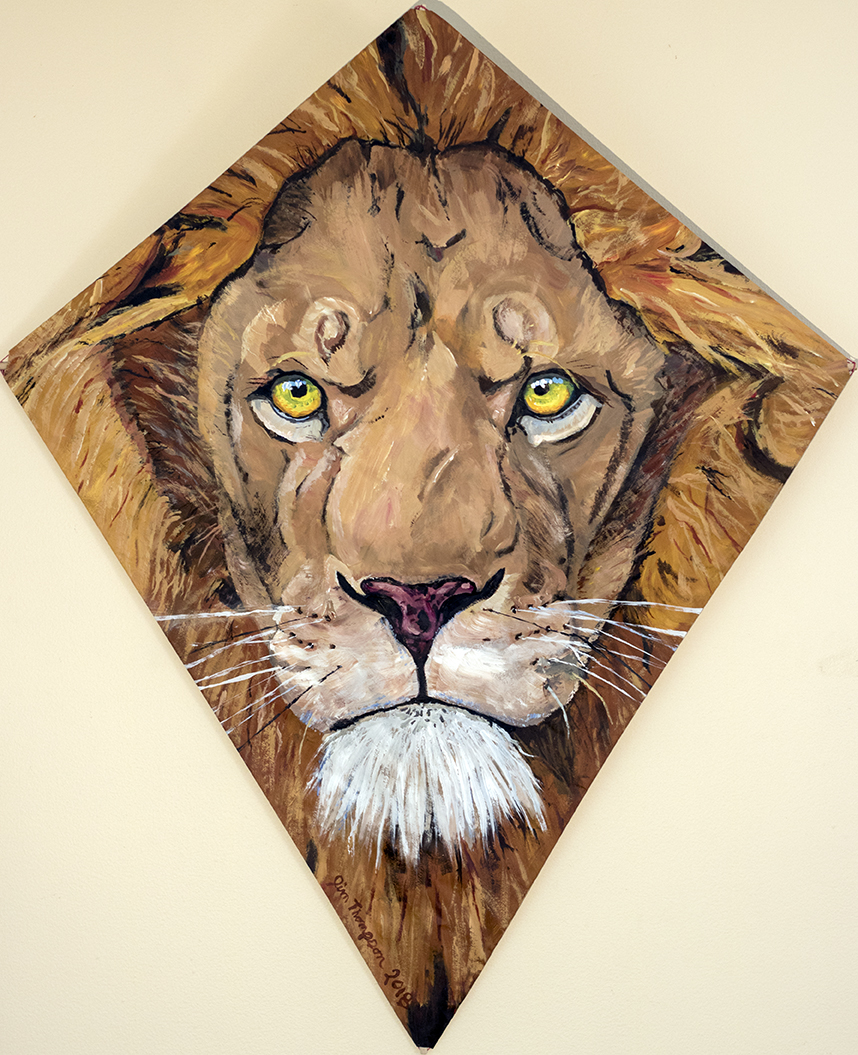 What you can't see here is the beautiful different color ribbons that make its tale.
Help Jim Thompson Support Lost Nation Theater & Youth!
UPDATE
Well what a couple of fabulous sold out shows we had! And what a great response to our Kite Raffle.
Thanks to patrons, our board members, and Jim, we raised $400 to support student scholarships. We appreciate it very much!
You got to see the results of LNT's scholarship program on stage in Narnia: Chronicle of the Dawn Treader.
Nearly half the students in the camp received tuition assistance.
LNT is grateful to you for helping make it possible for us to keep our commitment to students regardless of ability to pay.