Janeite LOVES LNT's Sense & Sensibility - another rave review
October 12, 2017
all photos on this page courtesy of Robert Eddy, First Light Studios (c) 2017
Margaret Harrington - Avid theater-goer, writer, and Board Member of JASNA-VT falls in love with Lost Nation Theater's presentation of Sense & Sensibility by Kate Hamill, from the novel by Jane Austen
The play Sense & Sensibility by Kate Hamill now running at The Lost Nation Theater in Montpelier until October 22 is a delicious feast of a production.
First it's served up by the lively professional direction of Kathleen Keenan who has whipped up a delightful ensemble on a silver platter of wonderful acting, comic timing, emotional intensity and faithfulness to the original story in Jane Austen's first published novel Sense & Sensibility.
Then you have the brilliant scenic design for theater in the round where the designer Kim Bent uses movable tables, chairs, windows and even potted plants to transport you to Regency England in a most inventive way. The costumes by Rebecca Stewart are essentially beautiful in color and texture and with a minimalist stroke - the addition of a hat, a vest, a shawl, or a mask, the actors play multiple characters masterfully. Lighting designer David Shraffenberger illuminates all with chameleon like magic which transports you just where you want to go. The Music Design by Tim Tavcar embraces and holds you there - lost and found in Austen.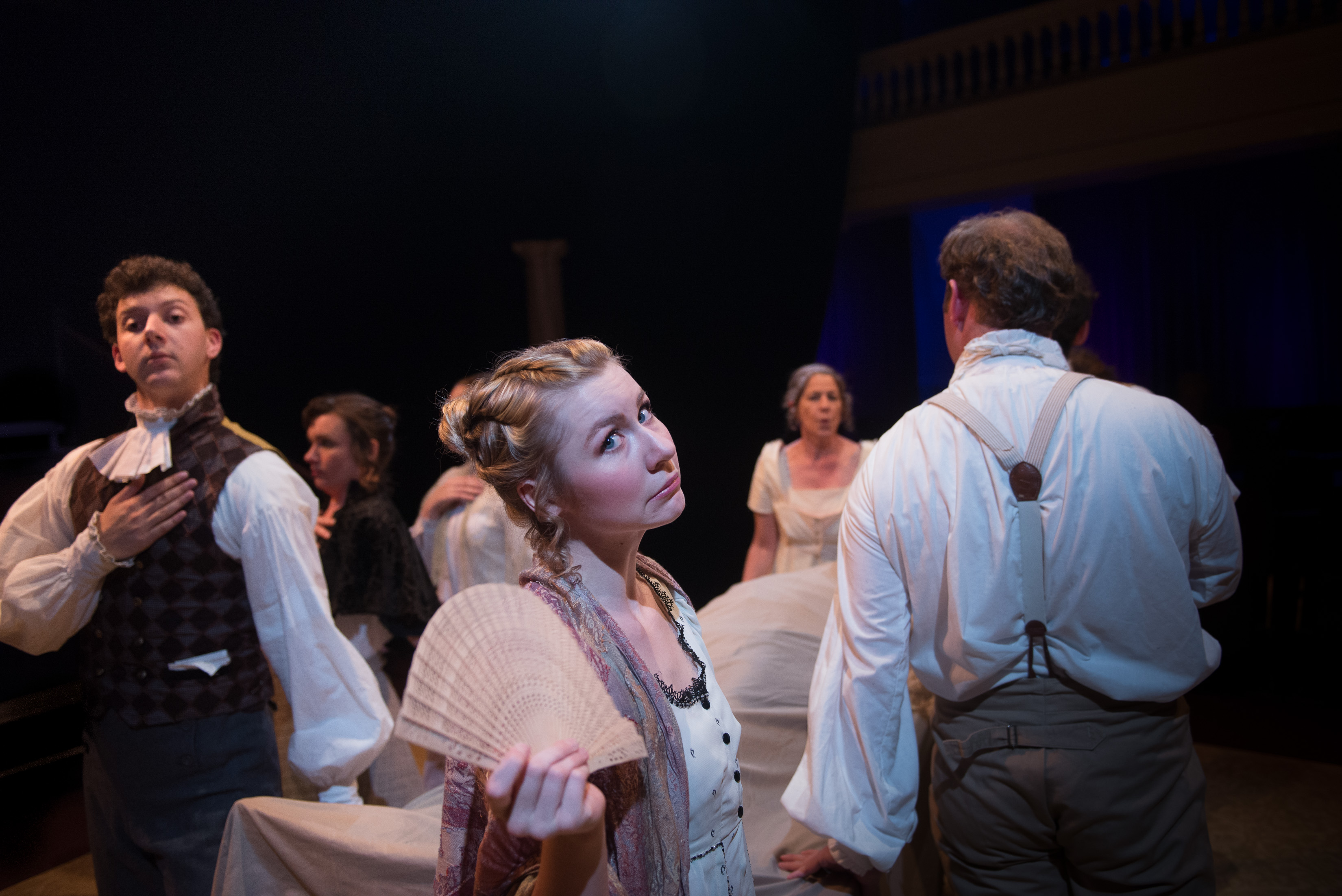 The story lives in the marriage plot wherein the Dashwood sisters, Elinor and Marianne, must find husbands to lift them out of reduced circumstances brought about by the recent death of their father and the acquisition of his estate by their half brother, John.
The eldest sister, Elinor, embodies Sense in dealing with her impulsive mother and two sisters and most of all her erstwhile suitor Edward Ferrars played charmingly by the actor Sam Balzac.
Annie Evans plays Elinor as a complicated young woman, totally sympathetic in her role as leveling anchor in her family. Her relationship with Marianne, portrayed with depth and passion personifying Sensibility by Katelyn Manfre, is the lynchpin of the play and the scenes between the sisters are riveting, funny and moving. There are two almost vaudevillian turns that stand out and nearly stop the show. These are Mrs. Fanny Dashwood's reaction when she learns that her brother is engaged to a woman with no money or status. Laura Michelle Erle in the role vents her frustration hilariously. The other is the Ferrars brother played again by Sam Balzac who goes on about cottages with mindless panache that leaves you shaking with laughter.
At times the actors insinuate themselves into the audience by including us in their gossip and this kind of social media chatter is what drives the plot.

This ensemble of actors work together so convincingly that they capture the audience from the beginning and draw us into the world of the story. It is amazing to me that the actors come from different places and meet here as professionals to form this true togetherness in art. I name all the actors here in tribute to their craft. They are: Leon Axt, Sam Balzac, Mariana Considine, Michael Dewar, Laura Michele Erle, Annie Evans, Erin Galligan-Baldwin, Brett Lawlor, Amanda Menard, Katelyn Manfre, Eve Passeltiner and Sebastian Ryder.

As a Janeite, that is a longtime enthusiast for the writings of Jane Austen, I am a board member with the Jane Austen Society of North America, Vermont region. In my opinion the play at Lost Nation Theater captures the essence of Jane Austen and reveals the power of society over individual identity with wit and levity.
Relevant to life today? Think social media and bullying, peer pressure, emoji, text messages, limited characters for intimate communication:
Behold - Jane Austen is alive and well and living in Vermont.

Margaret Harrington
Burlington, Vermont